Charlie's Grind & Grill is located at Ronac Bldg., Madison St, Greenhills, San Juan. Tel: 477-5021. They also have a branch at 16 East Kapitolyo Drive, Pasig. Tel: 501-0137.
Charlie's Grind & Grill requires no introduction. If you like cheeseburgers, then you probably already love Charlie's. Since opening next to a carwash in Kapitolyo, Pasig several years ago, the name Charlie's has been synonymous with arguably the best burgers in town. And for good reason.
With mouth-watering words like "wagyu, black angus, portobello, cheesesteak, and animal style" lighting up their menuboard like an "ALL NUDE" neon sign, deciding on what to order here is never easy. Tempted by nearly everything on the menu, Charlie's often makes me feel like Tiger Woods at a Vegas whorehouse, I want them all.
Way the hell overdue, here's our Charlie's experience at Ronac Art Center, which is actually two separate trips, lazily merged into one. Hey, give me a break alright? They were less than a week apart. 😉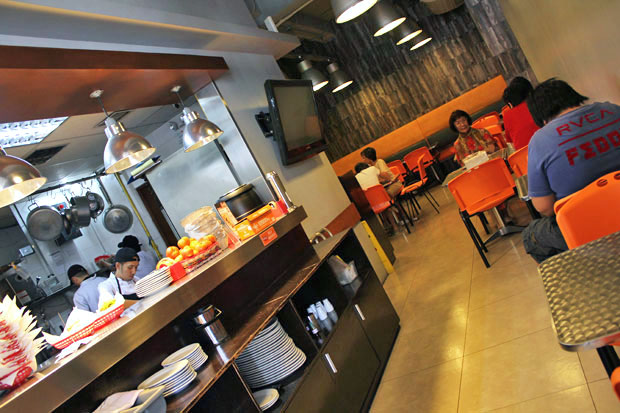 BLACK ANGUS Cheeseburger with Shrooms – PHP 415 – Cheddar cheese, butter leaf lettuce, tomatoes, onions, pickles, mustard, and mayonnaise on a butter bun with portobello mushroom.
First off, I have to be honest and say that this wasn't my first choice. I actually wanted the wagyu version of this burger, but they were all out of wagyu patties today, so I had to "settle" for this one. With that said, I wasn't the least bit disappointed.
This black angus version, served with a generous, breaded hunk of portobello, was a burger and mushroom lover's dream. I've enjoyed several Charlie's burgers before, with both black angus and wagyu patties, but the portobello in this one really took it to another level. Thick with crunchy breading, it was more than just an accent, it was like being gifted with a second patty in your burger. Substantial and delicious, the portobello was earthy, juicy, and almost meat-like in texture. Couple that with one of the best-tasting, freshly ground beef patties that you can find here in Manila, and you have a burger that's quite honestly, one of the best I've ever tasted.
If the black angus version of this burger was already this good, I can't imagine what the wagyu must taste like.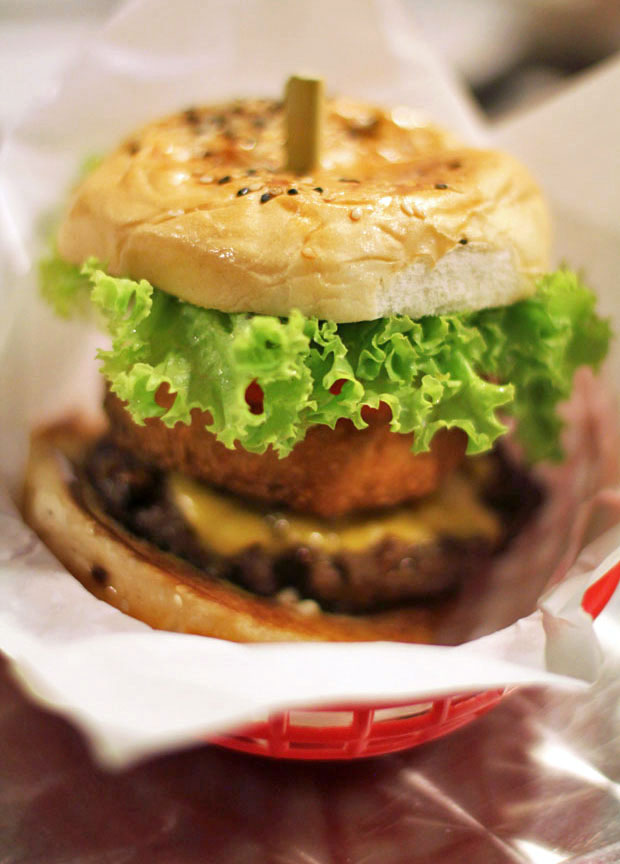 Batangas AAA Sirloin (Grassfed) Cheesesteak – PHP 325 (Hungry portion) – Caramelized onions, sauteed peppers, and mushrooms (+PHP 55) topped with velvety cheese sauce. Served with smokey ranchero sauce and a side of jalapeῆo.
This must be the fifth or sixth time that I've ordered this cheesesteak at Charlie's, and not once have I ever considered upgrading to the black angus ribeye. Why? Because I never felt the need to. "Unimported" as this Batangas AAA sirloin may be, it's been enough to knock me off my feet, time and time again. Plus, I'm cheap as fuck. (the black angus ribeye is an additional PHP 75) 😆
I've only had an authentic, from Philadelphia, Philly Cheesesteak once before, and this was almost exactly how I remember it to be, with caramelized onions, sauteed peppers, Cheez Whiz, and a side of jalapenos. The only difference was that they served this one with a spicy, smokey, Mexican ranchero sauce instead of the usual, run-of-the-mill marinara. Served on ciabatta, which doesn't quite scream Southside Philly the way an Amoroso roll would, was a good choice nonetheless, with its soft, crumbly texture complementing nicely the thinly shaved slices of beef. The Cheez Whiz was quintessential for me, but I know that not everyone likes it, so if you're one of those, then you can substitute it with a more traditional Provolone for an additional PHP 75.
My only complaint about this cheesesteak, which I've had since the very first time I tried it, is that it's fucking messy as hell. I could barely pick it up, and when I did, globs of steak and cheese would dribble down from all sides. No matter how good a sandwich is, I never enjoy having to go through an entire rainforest of napkins, just to finish my dinner. 👿
In spite of that however, this is a terrific cheesesteak and one that I will most definitely be ordering again and again. And who knows? Maybe next time, I'll get the urge to start running around the room with scissors and finally upgrade to the black angus ribeye. 😆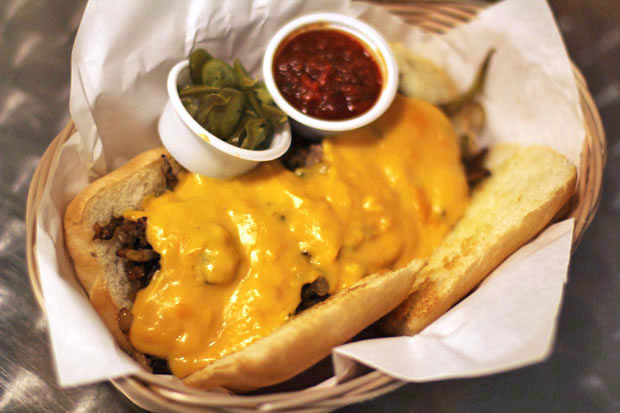 Dirty Fries – PHP 195 – Fresh Igorota Idaho potatoes with rock salt, ground black pepper, bleu cheese, bacon bits, diced tomatoes, green onions, and grilled chicken liver.
A ballpark-nacho-like basket of fries, this messy little monster was practically a meal in itself. Ren loved it, but I'm not as big a fan of gorgonzola nor chicken liver, so I didn't like it quite as much. The gorgonzola was discernibly pungent, with the bacon, onions, and tomatoes imparting welcome crunch, but I just found the whole thing to be a little too gritty and mineraly overall because of the liver. Sorry.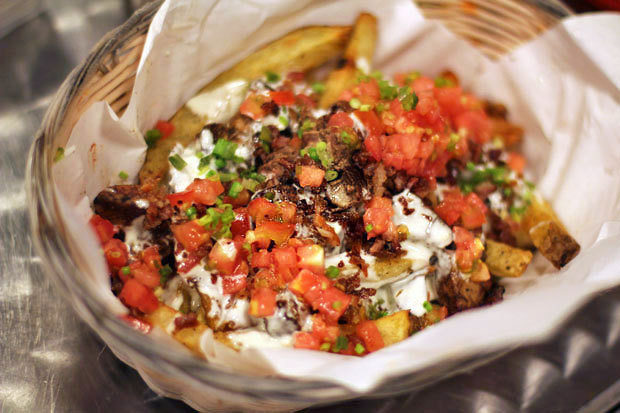 BLACK ANGUS Gorgonzola Cheeseburger – PHP 295 – Topped with Gorgonzola cheese, caramelized onions, butter leaf lettuce, tomatoes & secret sauce on a toasted butter bun.
Gorgonzola is an acquired taste. It's one of those things that you either love or you hate, kinda like that show Glee. An exceedingly pungent and overpowering cheese, it has the ability to drown out all other flavors. You can't put it on anything and not expect it to take center stage, which is precisely why I don't put it on my burger. Ren however, adores the stuff.
As you can probably tell by now, she ordered this one, but being the petite eater that she is, relinquished half to me. Though I'm not avid about this particular kind of cheese, I have to admit that as far as gorgonzola burgers go, this is probably about as good as it gets. Aggressive in flavor with a taste that's nearly impossible to describe, the cheese may have been the Rachel Berry in this burger, but the black angus patty more than held its own. Juicy and delicious as always, you could still readily appreciate it despite the strong persona of the gorgonzola.
Gorgonzola or blue cheese burgers may not be for everyone, but if you're a fan, then you'll be beaming with glee over this one. As for me, I may not have an appreciation for it yet, but give me a few more of these and I could be singing a different tune in no time. 😉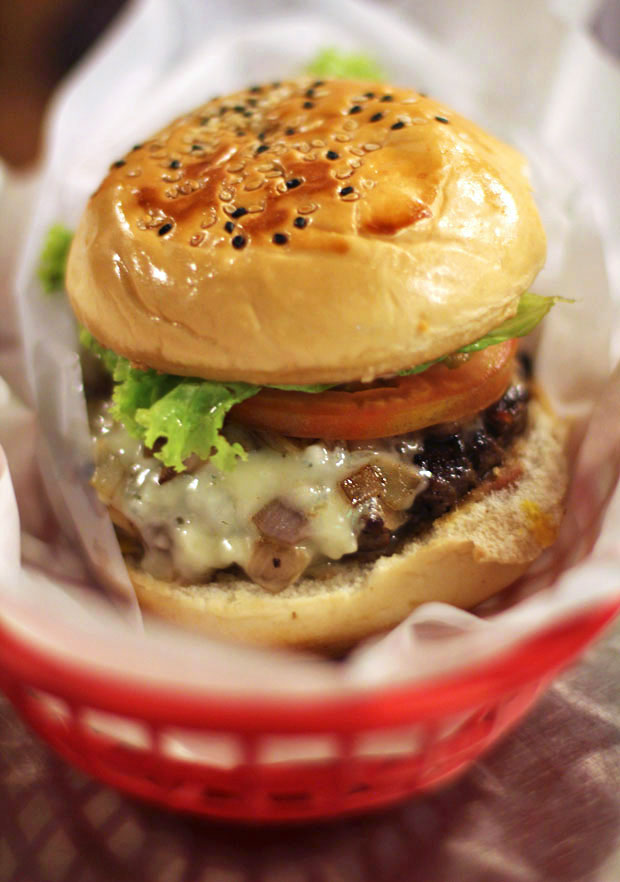 San Miguel Beer BLACK ANGUS Cheeseburger – PHP 320 – With griddled mushrooms, bacon, baked onions, cheddar cheese, mayo, and SMB BBQ sauce on a toasted beer bun.
In the wake of that life-changing San Miguel Beer wagyu cheeseburger that Ren surprised me with almost three weeks ago, we decided to try this black angus version tonight, just to compare. Everything else was the same, all the toppings, even the bread, with the only difference being the type of beef used for the patty.
Like the wagyu, this black angus was amazingly delicious, though perhaps just a notch below. I can't recall for certain, because they were spaced around two weeks apart, but I do remember being wowed by the initial bite from the wagyu more so than this one. The meat just seemed tastier and juicier. Not that this black angus was a slouch. Far from it, because this will absolutely demolish most other Manila burgers out there. It's just that the wagyu was that much better, even though the one I had was a soggier takeout version, and not fresh of the grill like this one. Considering just how good this one tasted, that's saying quite a lot.
Despite the drop-off however, this black angus SMB burger was still top-of-the-food-chain delicious, and one that I would happily obliterate any day of the week. Just not on Wagyuday. 🙂
Since both renditions are pretty much identical save for the patty, you can read my post on the wagyu version for a more detailed description of this mind-blowing, epiphany-inducing, San Miguel Beer burger. We. Are. Not. Worthy.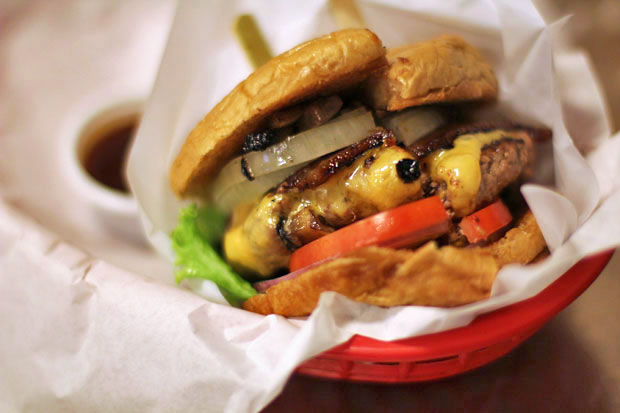 Animal Fries – PHP 155 – Fresh Igorota Idaho potatoes with rock salt, ground black pepper, caramelized onions, cheese sauce, and Thousand Island dressing.
Though I've eaten a few times at In-N-Out Burger, and have often heard about their animal style fries, I've never actually tried them until now. Rich, cheesy, tangy, and somewhat tart, I enjoyed them, much more so than the dirty fries above.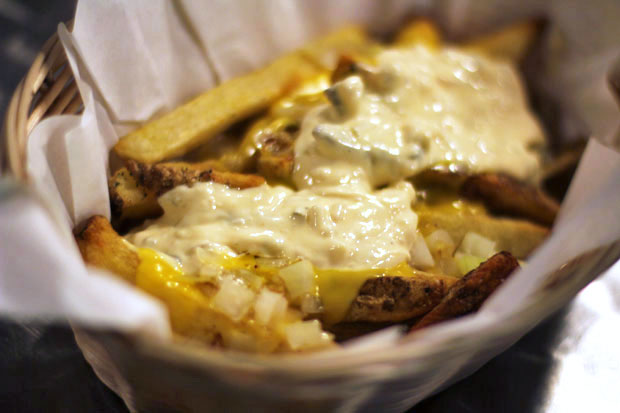 So there you have it, my long overdue post on the awesomeness that is Charlie's. Their burgers kinda remind me of that "Blue Magic" heroin from Denzel Washington's American Gangster – way better than everyone else's, cheap enough to get you hooked. I think it's time for another fix. 😈
By the way, speaking of Tiger Woods and cravings, I may be eating here again very soon, after I pick up one of these Bad Banana blind boxes from Secret Fresh next door. Aren't they hilarious? 😆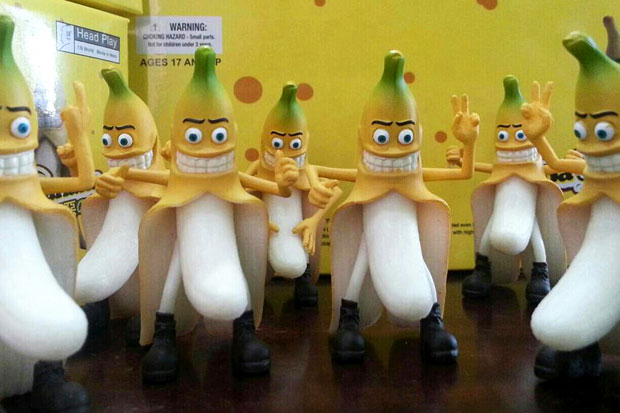 JB is one half of Will Fly for Food and its chief itinerary maker.  He's the one to blame for all the crappy photos and verbal diarrhea on this blog.  Don't listen to him.
Latest posts by JB Macatulad (see all)