Gandiva Cafe is located at 7/F One Corporate Center, Julia Vargas St, Ugong, Pasig. Tel: 638-8711.
If you didn't already know, Gandiva Cafe, aside from being the restaurant half of Gandiva Archery Range, serves nothing but vegetarian food. Being avid proponents for the humane treatment of animals, Ren and I experimented with a pescetarian diet several years ago, with vegetarianism being the ultimate goal. It turned out to be much easier said than done though, with our attempt at a new diet lasting just a few months.
Suppressing our urges wasn't the problem. Though we missed meat, abstaining from it wasn't all that difficult. What made it hard was the unforeseen pressure that our newly regimented diet put on our family and friends. Because we no longer ate land-based proteins, they had to scramble to prepare special dishes just for us. It became a burden and a source of unwanted attention. In the end, we succumbed to familial pressure and reverted back to a meat-centric diet.
With both Ren and I being the headstrong, stubborn Tauruses that we are though, we always knew that the regression would be temporary. Having the goal of full-fledged vegetarianism firmly rooted in our hearts, our resolve was rekindled after watching a video of this pig saving a goat from drowning. Seriously, how the hell could we go on eating pork after witnessing that?!
Hopping on Google, I learned about mafism, an alternative to vegetarianism that eliminates all mammalian meat from your diet. Because we humans are mammals ourselves, mafists believe that we share a special bond with them, as evidenced by our close relationship with dogs, cats, even horses. Ren and I know this all too well, having two pugs as children. Resolving to switch to a mafist diet in 2013, this means that mammalian meat such as pork, beef, and lamb will be stricken off our menu entirely, with poultry and seafood becoming our primary sources of animal protein. Less strict than pescetarianism, the non-elimination of poultry made this decision a no-brainer, and a more viable first step towards vegetarianism.
Having learned from our first attempt, familial pressure won't be an issue this time around either. We will be strict on our own, but when in Rome, in the company of others, we will do as the Romans do. We will eat whatever is available, and not force anyone to cater to our needs. Openly discussing our diet choices and belief system only invited criticism and cause for debate, so we won't be making that same mistake again.
In the spirit of mafism, pescetarianism, vegetarianism, and all other isms championing the humane treatment of animals, here we are today at Gandiva Cafe, enjoying a full-fledged vegetarian lunch as we prepare for our first-ever foray into archery and our soon-to-be mafist lifetsyle. Leafy diet choices, archery, and comic book superhero Arrow. I don't believe our immediate future ever looked so green. 😉
The restaurant is right next to the archery range. You can actually watch people shoot the stuffing out of those targets while you eat.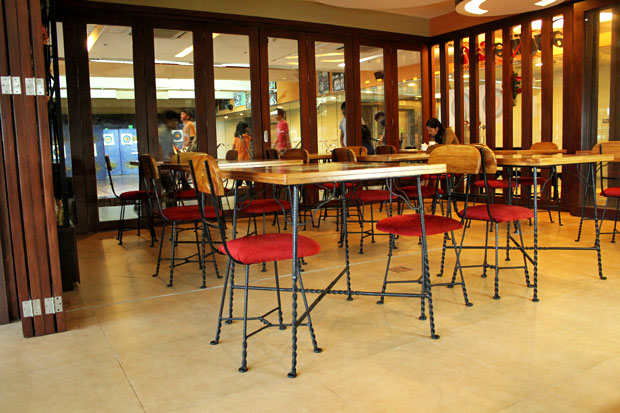 Mushroom Crispies – PHP 125 – Battered, deep-fried mushrooms with BBQ sauce.
Simple but delicious, this first of three dishes brought back memories of Corner Tree Cafe. If I'm not mistaken, they used strips of oyster mushroom that were battered then deep-fried like ebi tempura. A segment of the mushroom was left exposed and unbattered, giving it a hard, crunchy consistency that mimicked the tail.
Crisp on the outside, juicy on the inside, with watered down BBQ sauce as the dip, this was a tasty appetizer that gave us high hopes for the rest of the meal. Sadly however, the awesomeness would start and end here.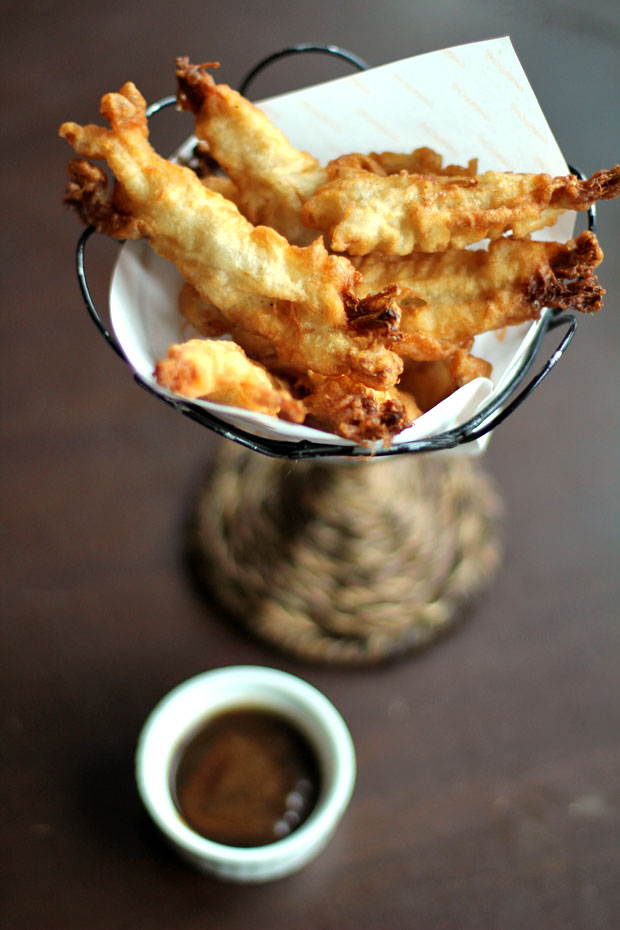 Gandiva VG Burger – PHP 198 – Soy burger with onions, tomatoes, lettuce, pickles, ketchup, mustard, and eggless mayonnaise with a side of kamote (sweet potato) fries.
When I saw that they served you two burgers for only PHP 198, I thought that I was getting a terrific deal. One bite though was all it took to convince me otherwise.
One of the worst things I've ordered from a restaurant in a long time, I felt like I was eating cardboard sandwiched between two heavy, pieces of bread. It was dry, stiff, and virtually tasteless, a far cry from the delicious tofu walnut burger served at Corner Tree Cafe, and beautifully mimicked by my Renee HERE.
Barely able to get through one, we took the second one home, which Renee slathered with her homemade hummus to make it moist and more palatable. I hate to be so harsh, and I rarely am, but these burgers really were awful. As bad as they were though, they weren't the worst dish from this afternoon.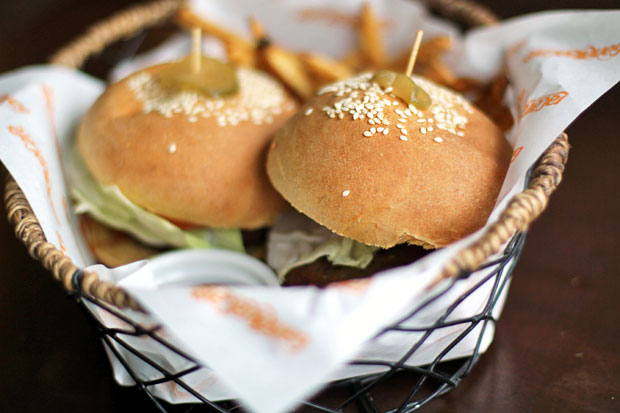 Garlic Pesto with "Beef" Salpicao – PHP 198 – Veggie-meat salpicao with garlic pasta
The Worst Dish of the Day Razzie goes to this veggie-meat "salpicao" in a landslide. Made with cubes of veggie-meat that tasted sweet like teriyaki sauce, why they were even called "salpicao" in the first place is beyond me. The pasta had a strong, lingering bitterness as well, likely brought about by burnt garlic or too much garlic powder, which quite literally, left a bad taste in our mouths. A few bites was all we could muster, as that bitterness just made it all too unpalatable. Sorry.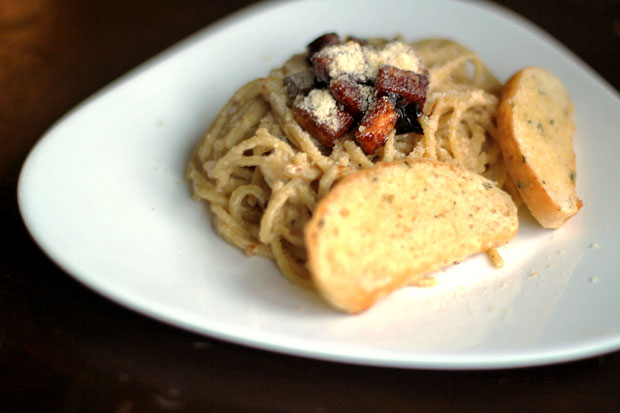 Again, my apologies for being so harsh about the food. Anyone who follows this blog knows that I am rarely that, if ever. With the dearth of vegetarian restaurants here in the metro, (especially ones with an archery range!) I really wanted this place to be good. The only other place that I've been to is Corner Tree Cafe, so I was hoping that Gandiva would be equally as delicious, if not better. Apart from those scrumptious mushroom crispies however, it just wasn't.
To be fair, our server did recommend the pizza, of which they offer several flavors. Since meatless pizzas can be found at many restaurants however, we felt it to be an unfair gauge of a vegetarian restaurant's quality, so we decided against it, at least for now. You can be guaranteed that this won't be the case on our next visit.
JB is one half of Will Fly for Food and its chief itinerary maker.  He's the one to blame for all the crappy photos and verbal diarrhea on this blog.  Don't listen to him.
Latest posts by JB Macatulad (see all)