Gavino's Donuts is located at Unit 5, Greenhills Towncenter, 2 Granada St., Brgy. Valencia, Quezon City. Tel: 4779275.
The unusual name for these donuts got me thinking.
At first, I thought that the term Pon de Ring was just "pondering" divided into three parts. Realizing however, that there was little connection between careful deliberation and oddly-shaped donuts, I then thought that it may have stemmed from "pandering" instead, which means "to give gratification to weaknesses or desires." A more sensible assumption, since sweets are indeed a weakness for many. On top of that, dividing "pandering" into the three-word term of Pan de Ring, signifies a piece of bread that's shaped like, or made from, a ring, which is exactly what these jewelry-shaped pastries look like.
A quick Google search told me that I was way, way off. 😆
A donut variation apparently created and made popular by Mister Donut Japan, pon in Japanese, is a playful word added to a name, like Renee-pon, JB-pon, or Kailangan-mo-mag-i-pon, and is used as a term of endearment between very close friends or family members. In the case of these doughnuts, I believe it was added to signify something like "cute or lovable donuts shaped like rings", an assumption supported by the Mister Donut line of cuddly, Pon-de-Ring-inspired mascots, as led by the hugely popular Pon de Lion.
Thank you Google!
The mystery of the rings finally solved, I can now spend less time thinking, and more time choosing. Uniquely shaped, somewhat chewy, and now available in the Philippines, deciding on which flavors to add to your Gavino's takeaway box is really the only thing that you need to worry about here.
"Less pondering, more Pon de Ring." Now that's a delicious thought. 😉

When bought solo, regular Pon de Rings sell for PHP 29 apiece, while premiums go for PHP 39. For every box of six that you buy, regulars drop down to PHP 27 per piece, and PHP 37 for the premiums. Buy a dozen and those prices dip down even more to PHP 25 and PHP 35 respectively.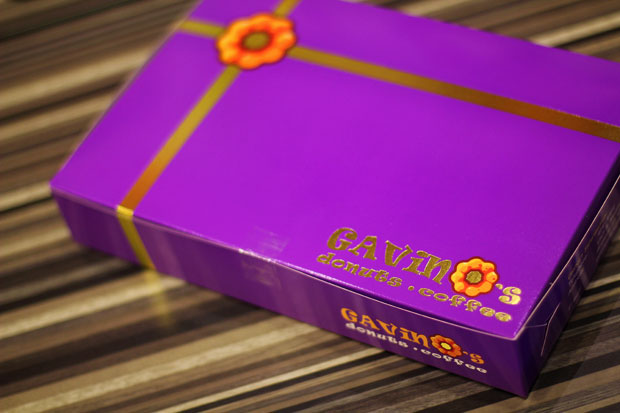 Clockwise from top left (premium in bold): Sour Cream, Glazed, Bacon and Chocolate, Cinnamon, Hazelnut, and Ensaymada.
Chewier than regular donuts, Pon de Rings are rumored to be made with tapioca flour, hence the mochi-like consistency. They're also less sweet, so if you don't like overly saccharine pastries and desserts, then you're likely to enjoy these.
All were good, but among these flavors, I enjoyed the bacon and chocolate, ensaymada, and sour cream the best. The bacon and chocolate was particularly interesting. Sprinkled with bits of crunchy imitation bacon, its saltiness did a wonderful job in enhancing the mild sweetness of the chocolate. The ensaymada was sweet and sharply cheesy, while the sour cream had a hint of tanginess that I loved. The others were nice as well, though more common than these three.
As mentioned above, none of these flavors were as sweet as the more conventional donuts you can find at Krispy Kreme or Go Nuts. Their subtlety may make them less impactful at first, but over time, they really grow on you and become even more addictive than their sweeter kin. I wouldn't mind getting every one of these flavors again. As good as they were, I bet they'd be even better fresh from the frier.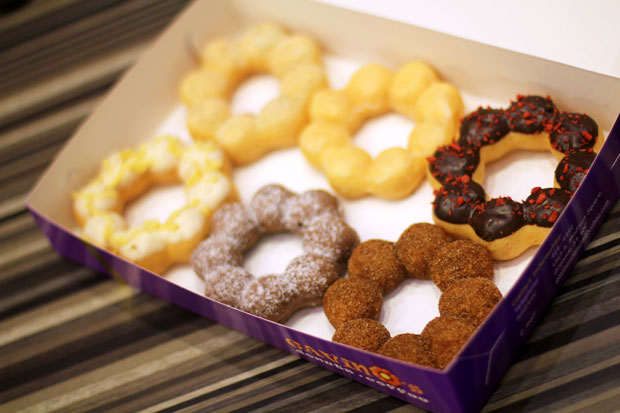 Meet Mr. Donut Japan's Pon de Lion. Kawaii!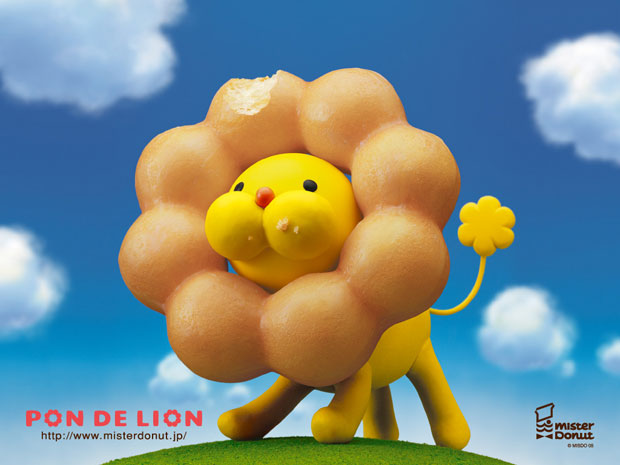 I grabbed a flier on the way out, but it's obviously not up-to-date since some of the flavors that we ordered today weren't even on it. Regardless, here are the other flavors on the flier not mentioned above:
Pon de Ring – Sugar Raised, Choco Glazed, Green Tea Glazed, Choco Sprinkle, Strawberry Sprinkle, Vanilla Sprinkle, Nutty Choco, Choco Crunch.
Premium Pon de Ring – Choco Almond, Cookies and Cream, Strawberry Gummy, M&Ms, Triple Chocolate, Green Tea Cheesecake.
They also have Pon de Balls, which are cream-filled, munchkin-like balls available in Bavarian, Strawberry, Green Tea, and Chocolate flavors. Each goes for PHP 15 apiece, with a half-dozen selling for PHP 90, and a box of fifteen going for PHP 200. Pon de Rific! 😀
JB is one half of Will Fly for Food and its chief itinerary maker.  He's the one to blame for all the crappy photos and verbal diarrhea on this blog.  Don't listen to him.
Latest posts by JB Macatulad (see all)