Relik Tapas Bar and Lounge
Relik Tapas Bar and Lounge is located at the 2/F Commercenter Bldg, 31st Ave cor 4th St, Fort Bonifacio, Taguig. Mobile: 0917-529-8333.
Ever notice the sound a menu makes when you open it? Most people probably haven't, but under the right circumstances, you can sometimes hear it. At Aubergine, I remember it making a distinct, somewhat comical, popping sound.
Our friend Larry was in town for his annual visit from the US, so we were patrolling the Fort for an interesting, balikbayan-worthy restaurant. Our top two choices, Champêtre and Wild Flour, were closed on Sunday nights, so Ren and I suggested Aubergine as an alternative. All smiles and laughter at the prospect of enjoying good food in the company of an old friend, we were happy walking into the restaurant, we were happy being led to the chef's table, we were happy all the way until we opened the menu and heard our collective balloons of revelry go *POP*.
PHP 900. For fucking APPETIZERS.
Ren and I had eaten here once before, over five years ago, so we knew they'd be pricey, just not deflatingly so. Hardly in the mood for food that was so prohibitively expensive, that you felt compelled to eat it one dainty slice at a time, we began plotting our escape. No longer laughing, we weren't even talking at this point. We stared blankly at the menu, pretending to deliberate while secretly looking for a way out.
Luckily, I had walked past Relik on my way to Aubergine from the parking lot. It's a tapas lounge that we had heard so many good things about but were yet to try. A sign? Without a doubt. Scurrying out of Aubergine with audibly less volume than we had walking in, we made our way to Relik with our limp balloons trailing behind us.
Happy to enjoy good food without inflicting any serious damage to our wallets, we couldn't have been more relieved to be here. Relik gave us exactly what we wanted. Interesting food, chill vibe, fair prices. Known for their terrific array of tapas presented in less familiar ways, do you know what sound their menu made when we opened it?
FFFFFFFSSSSSSSSSSSSSSSSSSSSsssssshhhhttt…..
Like the whooshing, gushing sound of helium rushing back into our freshly buoyant, reinflated balloons. Let the revelry start anew. 😉

Love the rustic, shabby chic, unmatchy-matchy interior. This is the kind of place that encourages you to languish with friends over tapas and sangria, becoming unavailable to the outside world, even for just a few hours. Me likey.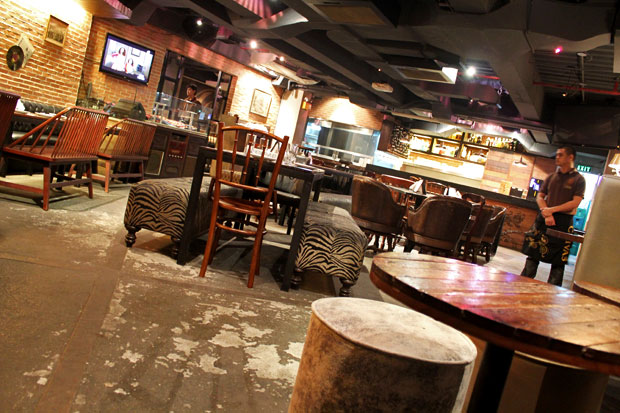 They had a few of these relics strewn about, like this vintage typewriter and record player. Love the keys on that typewriter. Very cool.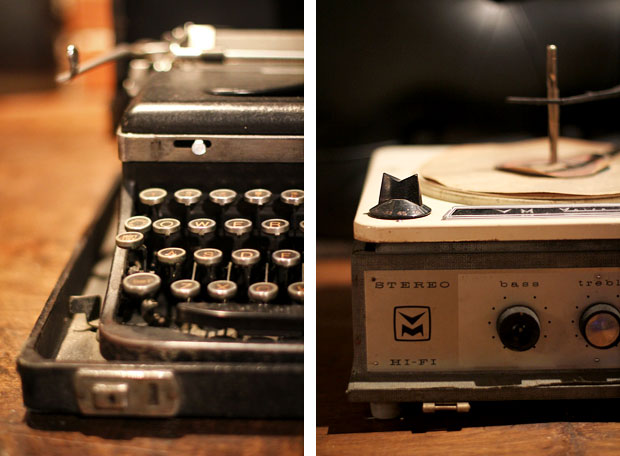 Another vintage item, a circa 1950s Art Deco Telefunken radio. Seeing cool stuff like this reminds me of why I love collector shows like American Pickers and Kings of Restoration. Already a collector of Tim Burton-inspired toys, I can totally see myself accumulating retro memorabilia as well, though Ren prefers the term "hoarding." 👿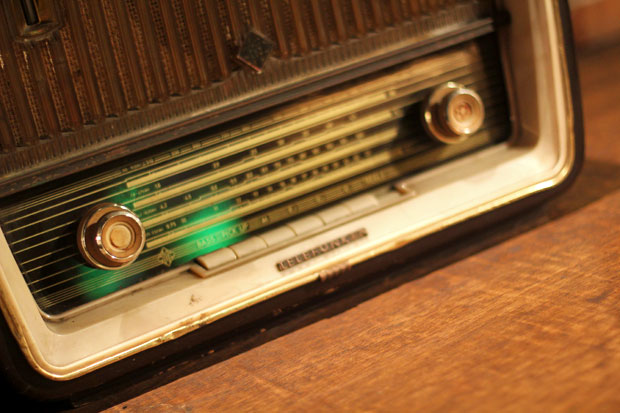 Jamon Serrano Trevelez, 15 months – PHP 250 – Served with tomato salsa and crostini Bonesli "Diego Martin"
Fantastic. I love cured meats and this Jamon Serrano really set the tone for the evening's meal. It was earthy, salty, and somewhat nutty, with the tomatoes imparting crunch and just a hint of acidity. I would have been happy eating just this all night long.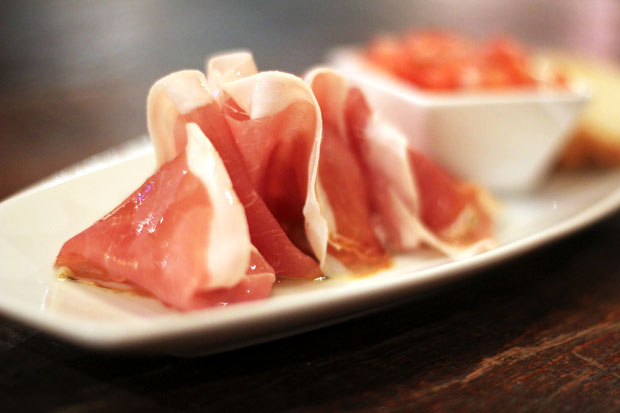 Roasted Bone Marrow – PHP 290 – Topped with gremolata, served with caramelized onions and crunchy bread
Aaah, bone marrow. Ren's favorite. A guilty pleasure that she shares with two of our favorite food personalities, Anthony Bourdain and Market Man. I like it too, though not nearly as much as she.
First off, the presentation of this dish was stunning. About a foot long and served on a weathered chopping block, the roasted marrow bone was split in half then drizzled with gremolata. The sight alone would have made cardiologists worldwide groan in disbelief. Served on the side were a few pieces of Melba toast, a pinch of sea salt, and caramelized onions.
I'm not a fan of toast that's excessively crunchy to the point of being glass-like. It practically drowned out the far more subtle flavors of the marrow for me. Ren says that it's a nice contrast in texture, which I can see, though am yet to appreciate. The caramelized onions were nice. Topped in moderation, they added welcome sweetness to cut the fattiness of the marrow.
The marrow, as expected, was unctuous beyond words. I'm hardly a connoisseur so have yet to develop the proper vocabulary to describe its flavors, but to me, the enjoyment from eating marrow seems to stem less from its actual taste, and more from the sensation of losing yourself in pure, adipose richness. I've consumed many a fatty food in my life, but this for me, was indulgence in its most arresting form. I shall learn to love it. 😉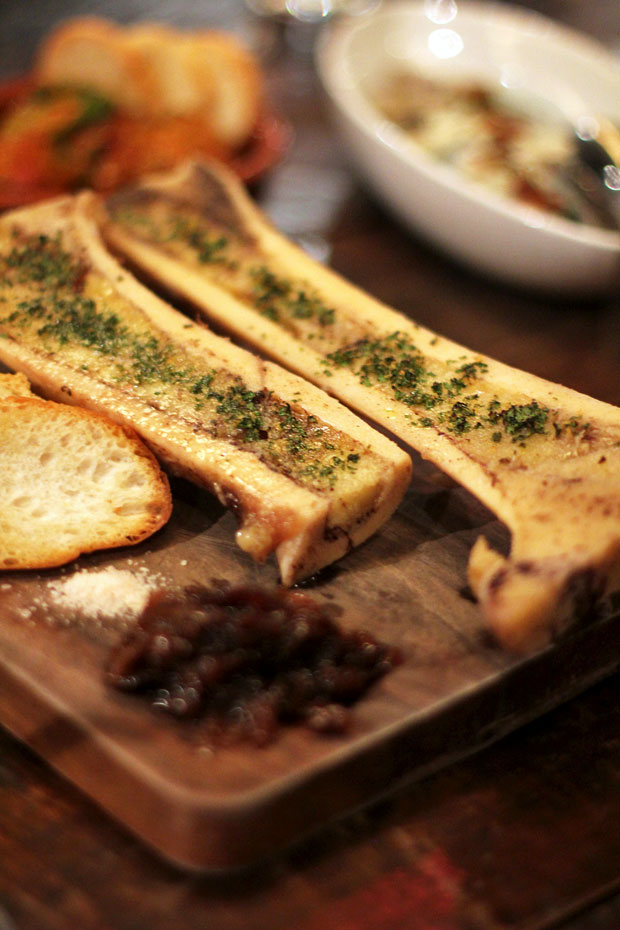 Mussels and Chorizo – PHP 330 – New Zealand green mussels sauteed in garlic cream and Spanish chorizo
Swimming in a garlic cream sauce, this dish, oddly enough, reminded me of New England clam chowder. Rich, creamy, and tasting of the ocean, I very much enjoyed eating the mussel then holding the cream-filled half shell like a little cup and slurping down the sauce. The bits of chorizo imparted punches of salty, earthy flavor as well. Very nice.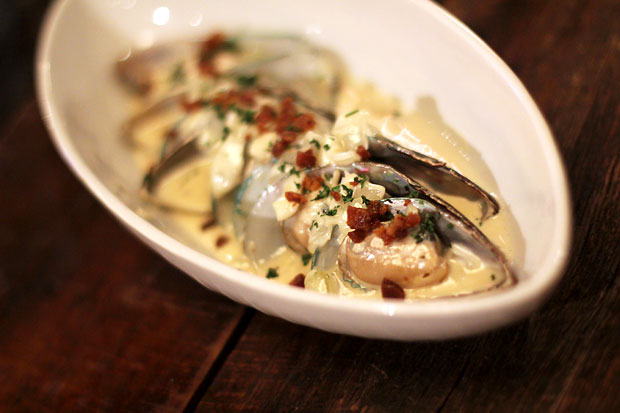 Lamb Meatballs – PHP 250 – Served in a tomato and harissa sauce
If memory serves me correctly, I've never encountered a restaurant dish made with harissa before here in Manila. A standard ingredient of North African cuisine, harissa is a Tunisian hot chili sauce that's like a moderately spicy tomato paste. Ren has a couple of interesting recipes using harissa on this blog, both of which you can check out HERE.
The meatballs were great. They really did taste of lamb, though mine may have been just a touch overworked. You got a good sense of the harissa as well, with its unique, herby flavor and spiciness. If you'd like to try a meatball that's a little out of the ordinary, then you should definitely order these.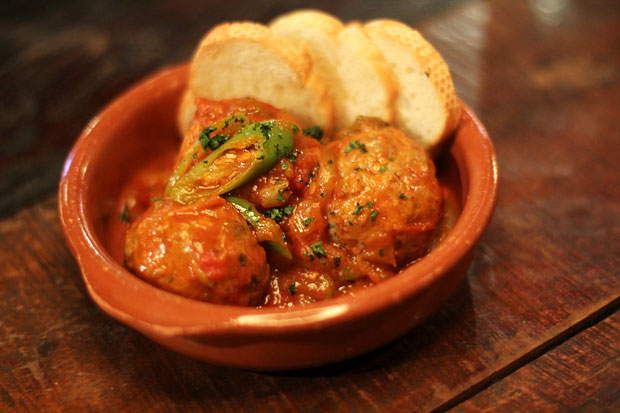 Tinta Negra Calamari – PHP 250 – Fried calamari in squid ink batter, garlic mayonnaise, and lemon
I never order fried calamari from a restaurant (unless they're comprised of all squid heads) simply because they almost always taste the same no matter where you get them from. Deep-fried squid rings with a crisp coating, rinse, then repeat. These blackened beauties however, are obviously unlike most others.
Deep-fried in squid ink batter, lending them a jet-black appearance, these differed from your usual golden brown calamari not just in color, but in texture as well. They weren't nearly as crisp as the usual calamari, which I actually preferred, since I find the crunchy coating to be tiresome and too filling after a few rings.
As different as these were though, I probably wouldn't order them again simply because I'm just not that big a fan of fried calamari, unless they're comprised of all squid heads of course. 😉



Double-Cooked Paprika Chicken Wings – PHP 260 – Chicken wings cooked sous-vide and then deep-fried in batter. Served with sour cream and sweet chili sauce.
Another interesting dish, when was the last time you tried chicken wings cooked sous-vide?
French for "under vacuum", sous-vide is a method of cooking wherein the food is sealed in an airtight plastic bag and submerged in a water bath for longer than normal cooking times, up to 72 hours in some cases. The cooking temperature is much lower than normal and is accurately regulated, the intent being to cook the item evenly, making it as juicy as possible.
The end result was a chicken wing that was truly the most tender and juicy that I have ever enjoyed in my life. The difference in texture really was discernible. The description stated that the wings were also deep-fried in batter after being cooked sous-vide, probably to give them a crisp coating. The coating, however, wasn't very crisp at all. If they could somehow manage to firm it up a bit and give it some crunch, these wings would be perfect. As you can see in the picture below, half were served plain and the other half coated with some sweet/spicy barbecue sauce. I liked them both.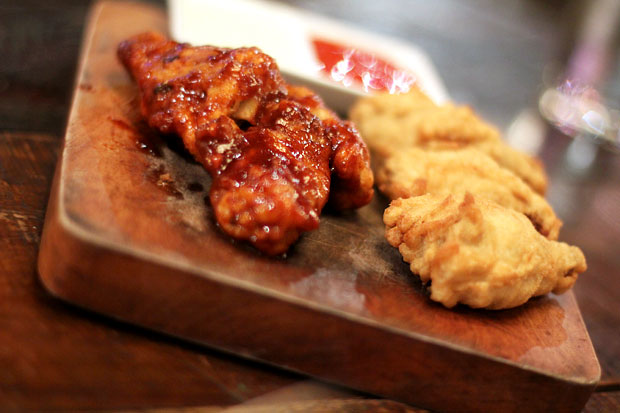 Chorizo and Fries – PHP 230 – Hand-cut fries topped with Spanish chorizo and a fried egg
This was reminiscent of the Huevos rotos con tocino that we enjoyed at Cerveseria. Unlike the Cerveseria version however, which was served with fried string potatoes and crunchy bits of bacon, this one was made with very thickly-cut fries and chunky pieces of chorizo, making it that much harder to put away.
The last dish to arrive, I was so full at this point that I could barely manage a small bite. It tasted good, but it felt every bit as heavy as it looked. Definitely not something that I'd order again, unless I were broke and looking for the quickest way to fill myself up with the least amount of money. 😆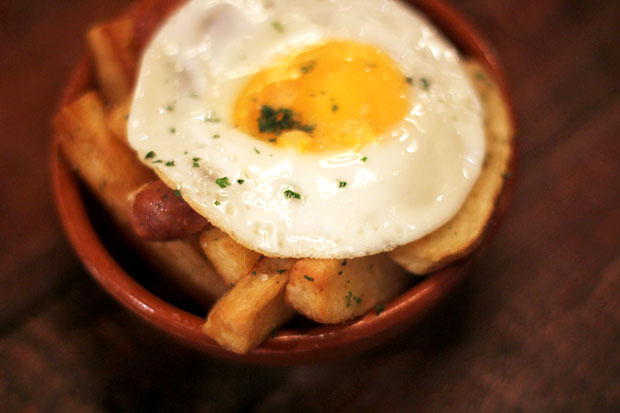 Larry and the lovely Reneelicious. Thanks for the annual treat Larry! We enjoyed Relik and would defnitely eat here again. Maybe next year? 😉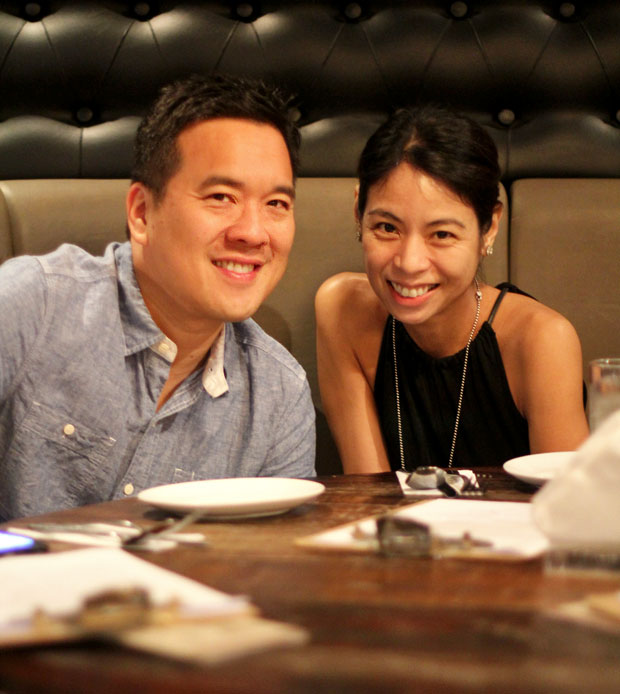 In parting, I wanted to make it clear that I meant no disrespect to Aubergine. As mentioned up top, we've eaten there once before and enjoyed the experience tremendously. They're expensive, with appetizers ranging from PHP 600-900 and entrees well in excess of PHP 1,000. They are however, a French fine dining restaurant, one of the best in Manila, so you do get what you pay for. It's no surprise that they're consistently listed in the Miele Guide year after year.
Ren and I may dine there again at some point, but on a more befitting occasion. Like a wedding anniversary, birth of a child, or voting in of a senator who doesn't have a filmography on his/her list of achievements.
JB is one half of Will Fly for Food and its chief itinerary maker.  He's the one to blame for all the crappy photos and verbal diarrhea on this blog.  Don't listen to him.
Latest posts by JB Macatulad (see all)