Weekday Birthday Buffet at Vikings
After my first weekend Vikings experience not too long ago, I wondered how the weekday version would compare. After all, there was a significant PHP 400 dropoff in the lunch buffet price. Floored as I was by the opulence and sheer magnitude of that weekend spread, I imagined that this weekday rendition would be trimmed down of its more premium offerings, but not enough to make it a dealbreaker. Turns out I was right.
Missing were a few of the more luxurious items like the salt and pepper crab, the steamed jumbo suahe (shrimp), the bluefin tuna sashimi display, the local crawfish, mesquite steak, and lumpfish caviar, among others. I know that sounds like a lot, but considering the breadth of this buffet, the omission for me, was insignificant. There was still the unparalleled sushi and sashimi spread that I adore, the lamb and Batangas beef tenderloin steaks, the raw seafood bar, the oysters, the tabletop sukiyaki and shabu shabu hotpots, the salmon caviar, and countless others. For PHP 400 less, I'll take it.
They give seniors over 75 a 50% discount on all buffet prices as well, whether weekday or weekend, lunch or dinner, making this the ideal venue for my mother-in-law to celebrate her 83rd birthday with all her surviving brothers and sisters. And oh yeah, the birthday celebrant gets to eat entirely for free too. How you like them apples? 😉
Like Kurt Cobain swinging his sickle of grunge and effectively beheading the entire glam rock movement, it's no wonder that Vikings, when it comes to the luxury buffet dining experience, stands head and shoulders above everyone else.

The Buffet
Please note that I had already photographed most of the stations on the abovementioned visit, so I only focused today on the sections that I missed last time. For pictures of the entire opulent spread, including their full pricing chart, please visit this post – Weekend Buffet at Vikings.
Dessert
Halo-halo station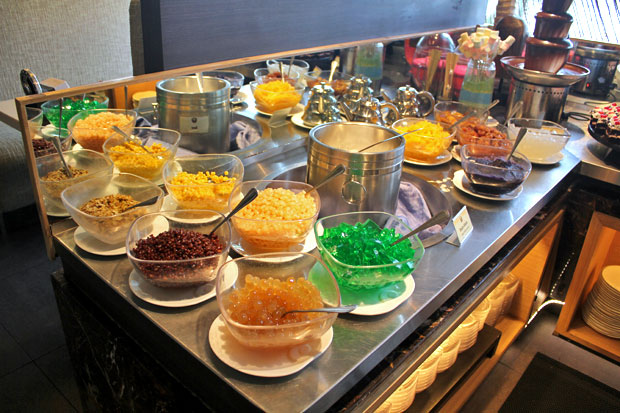 Bite-sized pastries, cake slices, kakanin (native rice-based desserts), mousse, panna cotta, et al.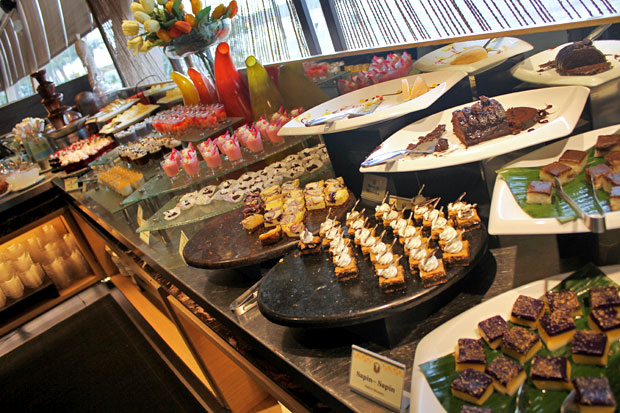 Chilled desserts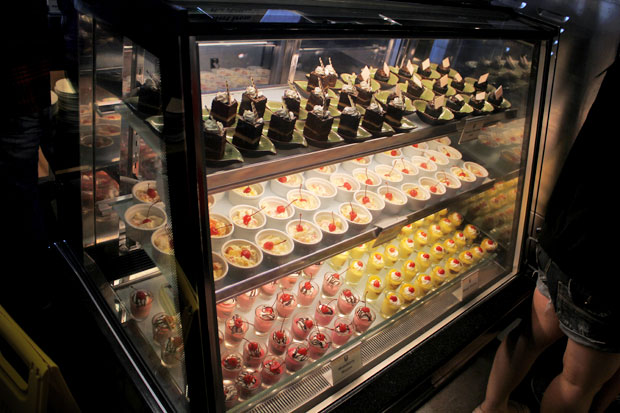 Fresh fruits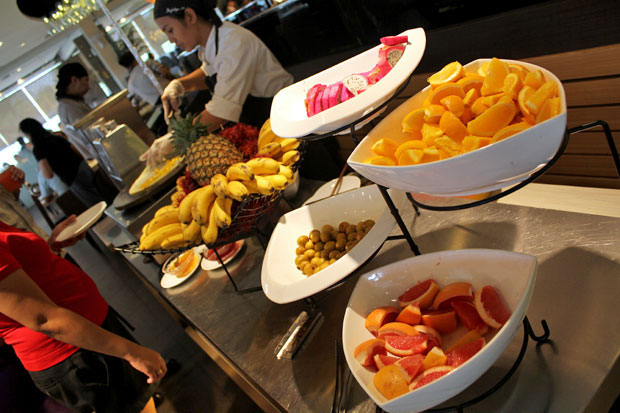 Crepe Station. I don't know if they offer other types of crepe, but she was making only mango today.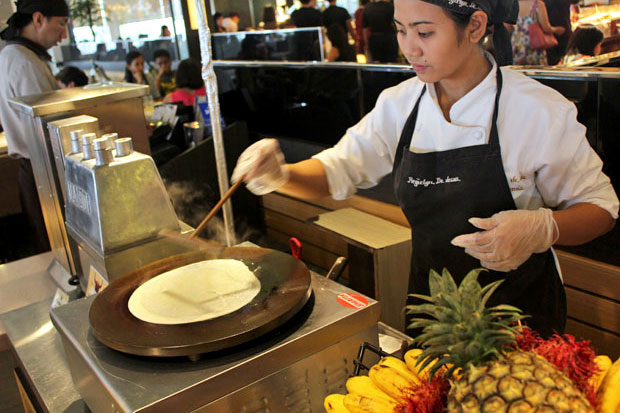 Ice cream bar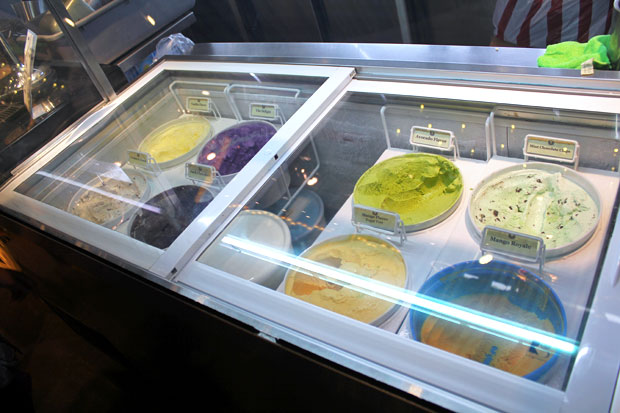 Yogurt machine and toppings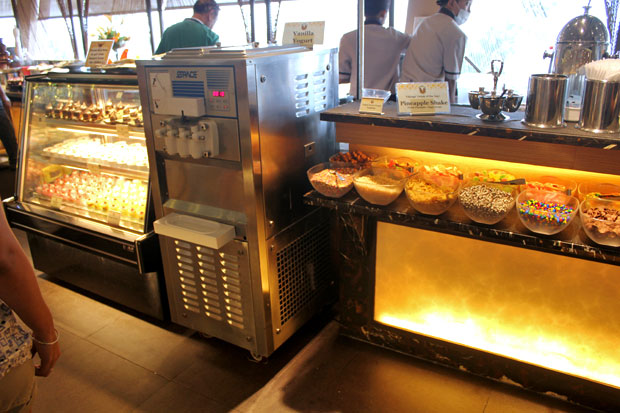 Sukiyaki / Shabu Shabu
Another offering that makes this buffet so cool – personal tabletop sukiyaki and shabu shabu hotpots. They offered several different types of shabu shabu as well – seafood, beef, pork, etc. Awesome.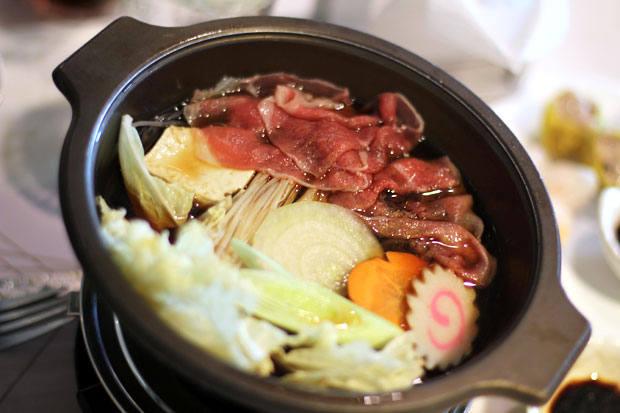 Draft Beer
Minimum drinking age? 18. Strictly enforced? Hell no. It's more fun in the Philippines!*
*These comments reflect my opinion and my opinion only, and were included solely for the purpose of enhancing this post's comedic value. They do not, in any way, reflect Vikings' or the Philippine government's stance on underage drinking law enforcement. Stupid cybercrime law.** 😆
**Another opinion.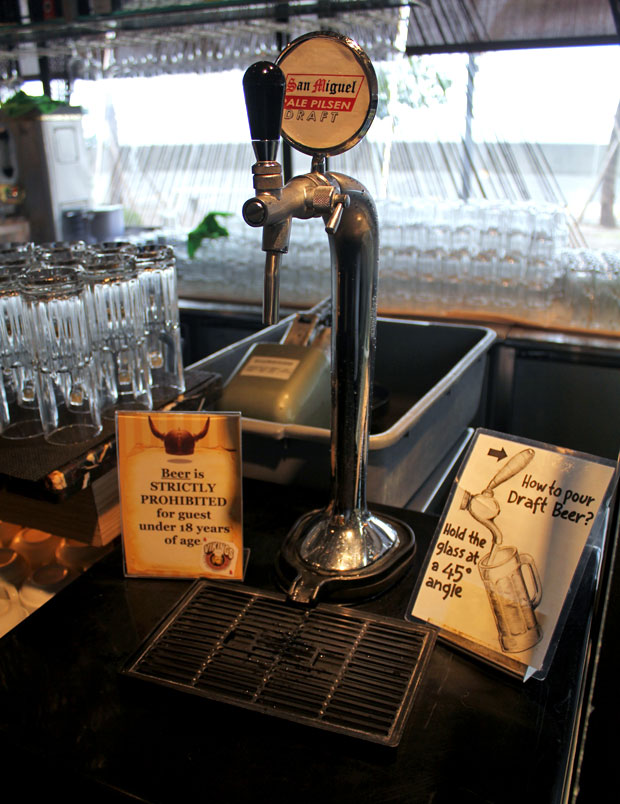 My Bounty
ROUND 1 – Sushi and sashimi
As Depeche Mode lead vocalist Dave Gahan frequently crooned in the 80s, when it comes to sushi, "I just can't get enough."
Simply put, the sushi and sashimi spread at Vikings is the best. As described and photographed in THIS POST, the weekend version of the buffet had crawfish as well as a jaw-dropping display of tuna and salmon sashimi resting atop an actual bluefin tuna carcass, but as far as the variety of sushi and sashimi, they were identical.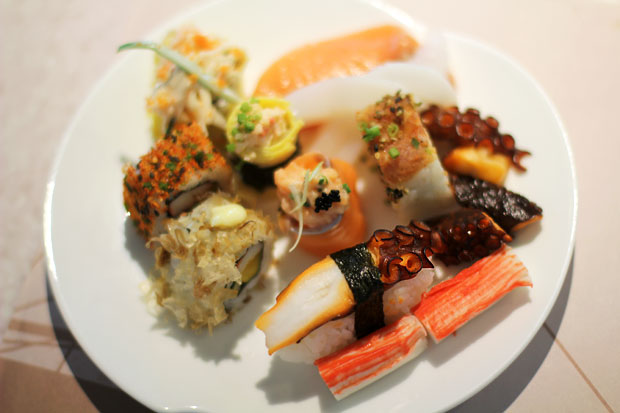 ROUND 2 – Ebi tempura and pepperoni pizza
The batch of ebi tempura that I enjoyed during my first Vikings experience was way better. If you compare the pictures, they even look different. These were overbattered so were too hard and crunchy. The pizza was pretty good. The crust was terrific, very light and crisp, but the pie had been sitting out for a while so the cheese had lost all its gooeyness.



ROUND 3 – Lamb and beef tenderloin steak
One of the most popular stations at Vikings, the Batangas beef tenderloin steak was delicious, very tender and cooked medium rare just as I had requested. The lamb was tasty as well, but tough and sinewy because it was cut from the leg.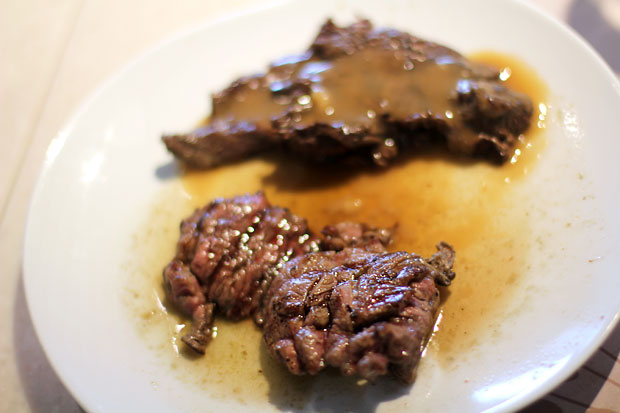 ROUND 4 – Oysters rockefeller
Another popular station, though Via Mare oysters these weren't. They were pretty flavorless and the oysters themselves thin.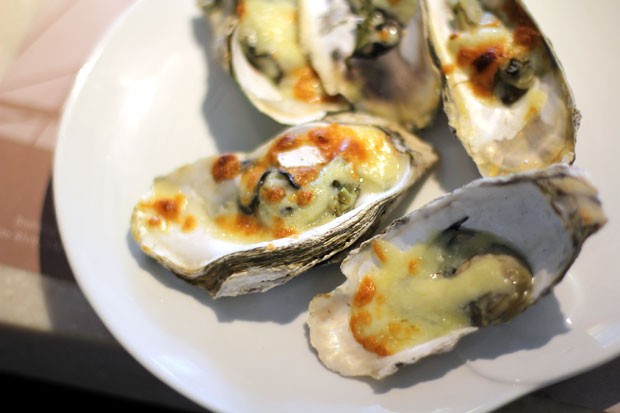 ROUND 5 – More sushi and sashimi
Like a broken record, "I just can't get enough." 😉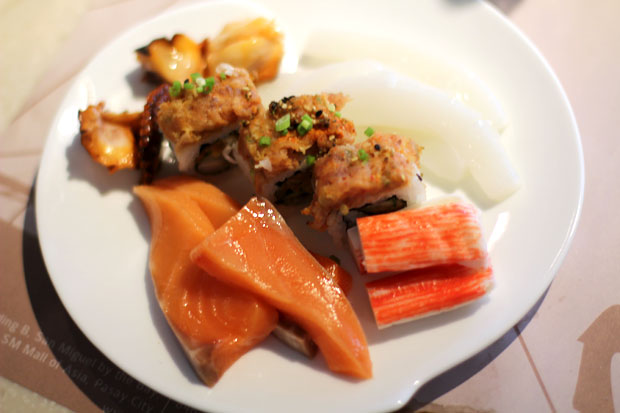 ROUND 6 – A quartet of desserts – strawberry mousse, coffee jelly, blueberry panna cotta, and red velvet cake.
These were decent, but nothing great. I thought that they lacked flavor overall.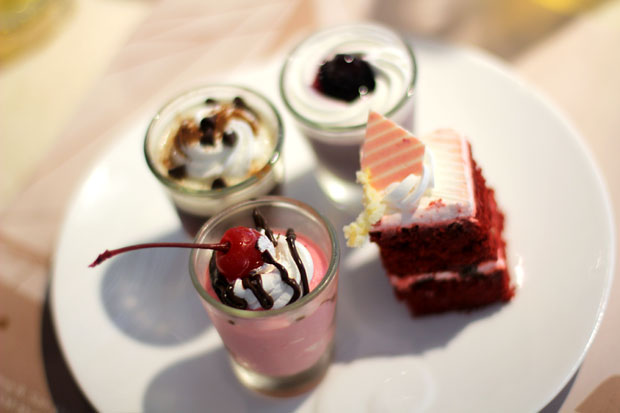 ROUND 7 – Mango crepe with chocolate syrup
This was really good, especially when eaten a la mode. The mangoes were very sweet, and the crepe nice and light.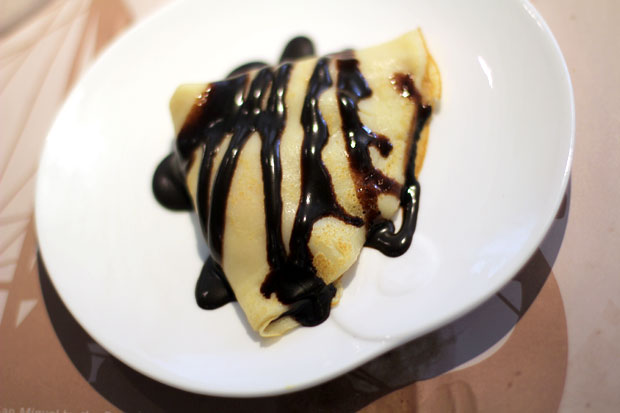 ROUND 8 – Avocado, cookies and cream, and dark chocolate ice cream
Creamy without a hint of frostiness, each of these flavors was delicious. The avocado really tasted like avocado, and the dark chocolate was especially divine.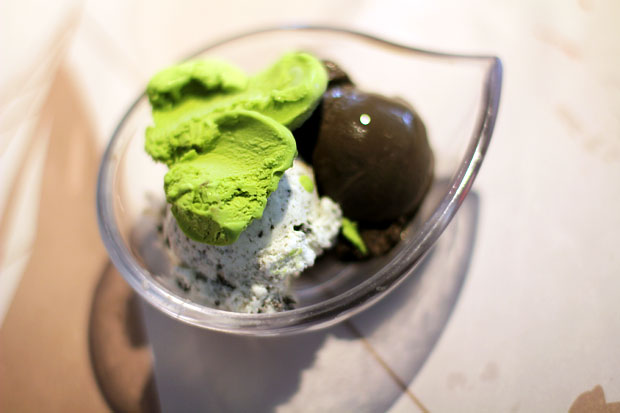 Happy 83rd birthday mom! Thanks for the treat. 😀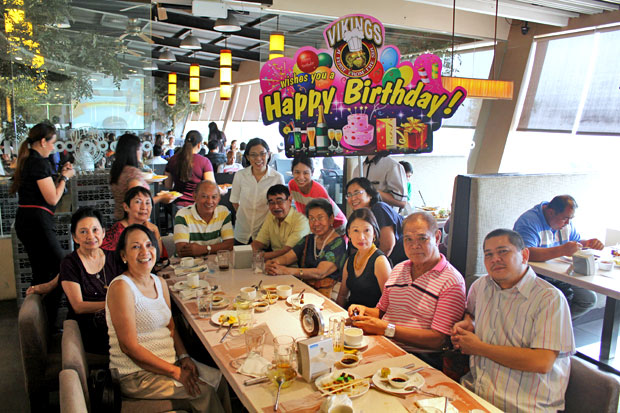 With each and every single one of us stuffed to the point of explosion, effectively killing any existing dinner plans, you'd think that the bill would have given my mother-in-law a heart attack. Hardly. With 3 seniors getting a 50% discount, 3 more getting 20% off, 6 paying full price, and 1 birthday celebrant eating for free, the bill came out to just around PHP 6,500.
Off with their heads! 😈
Vikings SM Mall of Asia
Building B, By the Bay, Seaside Blvd, SM Mall of Asia, Pasay
Tel: 846-3888 / 846-4888 / 846-5888
Mobile: 0917-565-3888 / 0923-730-3888
Facebook: Vikings-Luxury-Buffet-Restaurant
Website: www.vikings.ph
Email: reservations.vikingsmoa@yahoo.com
Operating Hours: Mon-Sun, 11AM-2:30PM (Lunch) / 5:30PM-10:30PM (Dinner)
Vikings SM North
4/F SM City North EDSA, The Block, EDSA cor North Ave., Sto. Cristo, Quezon City
Tel: 376-3888 / 376-4888 / 376-5888
Mobile: 0917-554-3888
Email: vikings_smnorththeblock@yahoo.com
Operating Hours: Mon-Sun, 11AM-2:30PM (Lunch) / 5:30PM-10:30PM (Dinner)
Vikings SM Marikina
SM Marikina, Marcos Highway, Calumpang, Marikina
Tel: 570-3888 / 570-4888 / 570-5888
Email: vikings_smmarikina@yahoo.com
Operating Hours: Mon-Sun, 11AM-2:30PM (Lunch) / 5:30PM-10:30PM (Dinner)
JB is one half of Will Fly for Food and its chief itinerary maker.  He's the one to blame for all the crappy photos and verbal diarrhea on this blog.  Don't listen to him.
Latest posts by JB Macatulad (see all)