101 Hawker Food House Revisited
101 Hawker Food House is located at Unit 102, Campos Rueda Bldg., 101 Urban Ave., Makati. Tel: 886-7329.
Because we live all the way in Quezon City, we don't get to eat at 101 Hawker Food House very often. In fact, this was the first time we've been back since discovering this place over a year ago. Having to cuss our way through horrific, insanely frustrating EDSA traffic, I am reminded about just how fortunate I am to be able to work from home.
What makes the traffic all worthwhile though is a vast menu of cheap, decent Singaporean hawker food and PHP 190 buckets of San Mig Light. Just PHP 190 per bucket of six, PHP 35 if you get them by the bottle. PHP 35 per SML is a great deal even in Quezon City, but in Makati, it's unheard of. Couple that with ample parking and a casual flip-flop-friendly atmosphere, and you have a watering hole that's tough to beat.
Stretching out my middle finger (and vocal cords) for two hours of unneighborly finger pointing, Ren and I braved the traffic to hook up with our drinking buddies Eira and Sep for another much needed Friday night drinking sesh.
Aaah the seductive power of cheap beer. 😉

Roti Prata with Curry – PHP 100
If you've never tried this, roti prata* is a fried, flour-based pancake that's cooked over a flat grill and usually served with a vegetable or meat based curry. This is one of my favorite appetizers but I unfortunately did not like this one at all. The roti was extremely oily and the curry too sweet.
*We frequently order roti canai but this was the first time I had ever heard of roti prata. They look identical so I Googled it. Apparently, they're one and the same. The dish is called roti canai in Malaysia, roti prata in Singapore.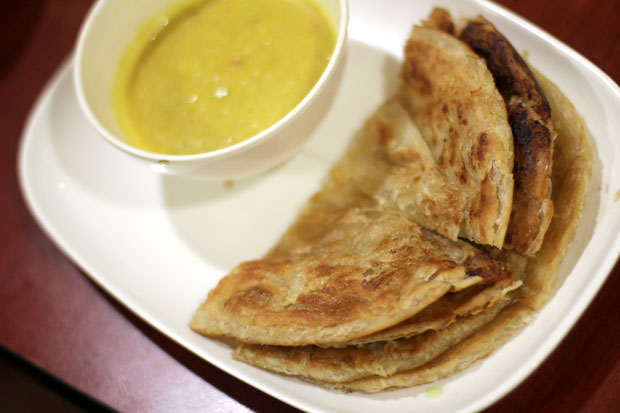 Sambal Fish Fillet – PHP 120 (topping)
This crispy fried fish with sambal soup was one of my favorite dishes from our trip to Ubud, Bali, Indonesia a few years ago, so when I saw the words "sambal fish" on the menu, I knew exactly what to order. Unfortunately, this was nothing like that dish.
Sambal is a chili-based sauce so I was expecting a lot of heat. This, however, wasn't spicy at all, just sweet. The fish was tender and it tasted good enough, but it wasn't at all what I expected. Probably not something I'd order again since I do look for a lot of heat in my sambal.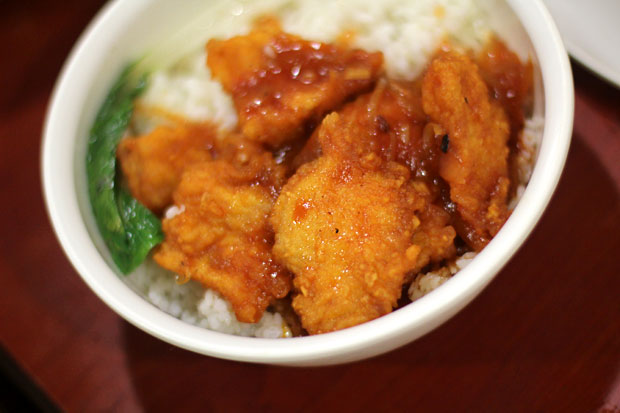 Singapore Laksa – PHP 110
With neither Ren nor I being experienced laksa eaters, we can't really comment on this version's authenticity, but Sep did note that it was a far cry from the laksas he enjoyed during his recent trip to Singapore.
This version was sweet, somewhat spicy, lemongrass-y, and just a little fishy. Also, they appear to use local palabok noodles instead of authentic laksa noodles, which probably contributes to its less than authentic feel. I know for a fact that the Singaporean owner of Nasi Lemak goes through the trouble of importing laksa noodles directly from Singapore, so that tells you just how important the noodles are to this dish.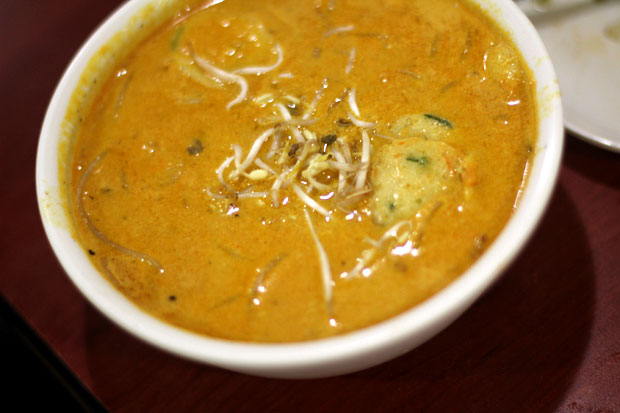 As mentioned up top, 101 Hawker Food House is a great place for inexpensive food and cold beer. You can eat here every day for a couple of months and have something new to order each time. The menu is vast and varied and the portions generous.
With that said however, don't come here expecting authentic Singaporean food because you won't get it. Everything tastes sweeter than it should, probably to cater to the Filipino palate. Evidently, it works because on both occasions, the place was packed to the brim, with around two to three turnovers per table during dinner alone. Pretty good considering that they close relatively early, at around 10 pm. Just goes to show you that cheap eats and ice-cold beer will always be a winning combination for any Filipino. 😉
JB is one half of Will Fly for Food and its chief itinerary maker.  He's the one to blame for all the crappy photos and verbal diarrhea on this blog.  Don't listen to him.
Latest posts by JB Macatulad (see all)