Tapsilog Avenue is located at the corner of Scout Tuazon and Scout Gandia South Triangle, Quezon City. They also have a branch at 14 Gil Fernando, Marikina (387-9626), and another along Panay Ave close to Timog Ave, Quezon City.
You know what I like most about Tapsilog Avenue? I never have to bring anything more than my driver's license to eat there.
A 24/7, all day everyday tapsilogan, conventional "silogs" like tapsilog, tocilog, longsilog, and bangsilog figure prominently on their menu, with less traditional mash-ups like burgersilog, wantonsilog, and sharksfinsilog available as less typical options. Apart from the variety, what's the best part about their silogs? They're all evenly priced at just PHP 45 a pop, which coincidentally, is the exact same amount I need to keep in my driver's license these days to get off with a smile and a thumbs up. 😉

Tapsilog – PHP 45
This was good. Among the "silogs," tapsilog is Ren's favorite and she very much enjoyed this one. It was the type of tapa she preferred – dark, tender, and not too wet. For only PHP 45 though, they can't give you very much of it, so be prepared to eat like a construction worker. (little viand, lots of rice)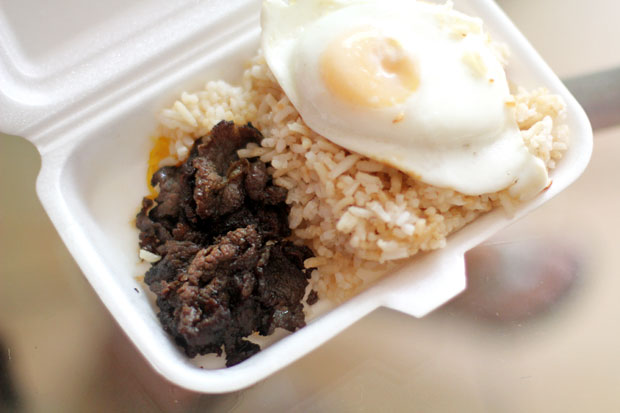 Tocilog – PHP 45
I like tocino, so among the four, this was easily my favorite. They char it in parts so you get crunchy, smoky bits to go with that patent tocino sweetness. Again, for only PHP 45, the serving size is a little petite so be sure to bring your hard hat.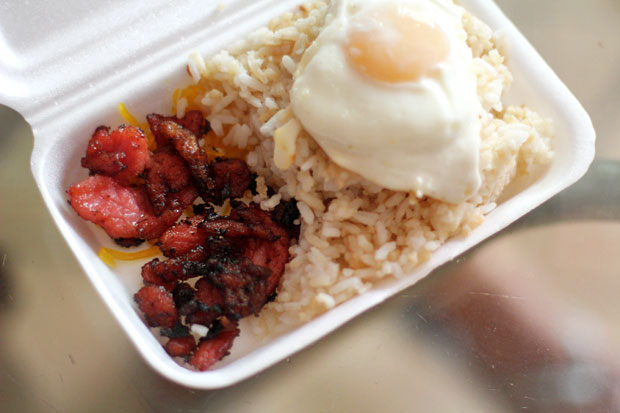 Longsilog – PHP 45
Of the four that we tried, this probably gave the most value for money with two decently-sized hamonado longganisas. They were good – sweet, not garlicky, dense and chewy in texture.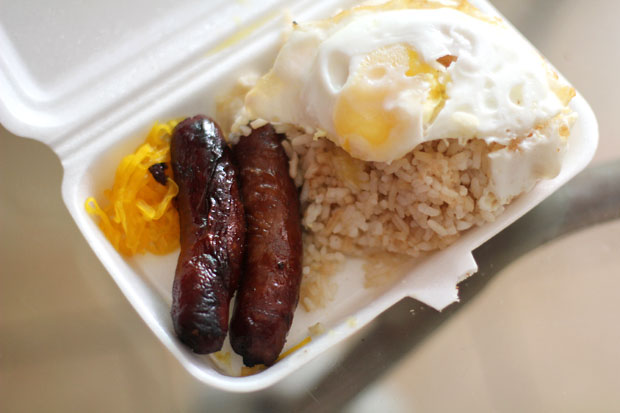 Chixsilog – PHP 45
This is apparently one of their best-sellers, but neither Ren nor I liked it very much. It was good on its own, with a nice crisp breaded coating, but it didn't go well with the garlic rice and fried egg. They do give you a sizable piece of chicken though. At only PHP 45, it's another great deal.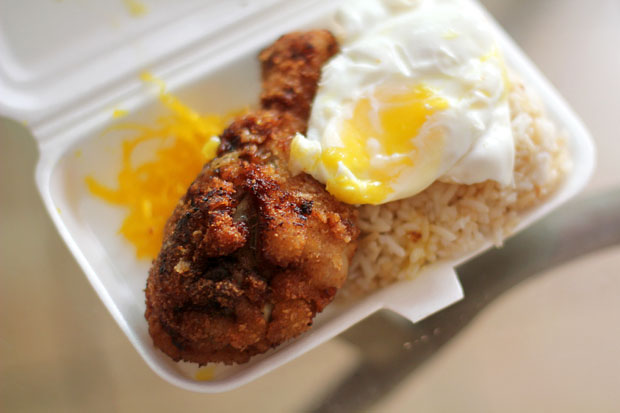 NOTE: FYI, I DO NOT keep PHP 45 in my driver's license jacket because that would be, you know, like, wrong. I keep PHP 50. Just kidding. 😆
JB is one half of Will Fly for Food and its chief itinerary maker.  He's the one to blame for all the crappy photos and verbal diarrhea on this blog.  Don't listen to him.
Latest posts by JB Macatulad (see all)