Red Buffalo Wings & Pizza
Red Buffalo Wings & Pizza is located at Unit 11 Greenhills Towncenter, #2 Granada St., Brgy. Valencia, Quezon City. Tel: 654-6997.
I've frequently driven by the recently erected Greenhills Towncenter along Granada Street without giving it so much as a cursory look. I'm not fond of these strip mall-type thingies (for lack of a better term), as they're usually populated with cookie-cutter chain restaurants. This one looked smaller and even less promising than usual, with only a McDonald's and a Sumosam visible from the street.
Boy, was I wrong.
Thanks to Ren's insistence that we try it, we decided to explore this structure in search of a place to have lunch with her family. Apparently larger than I initially thought and populated with interesting restaurants serving a spectrum of cuisines, like Kebab Depot, Chololos Grill, Amburger Gastropub, Ha Yuan, and many others, we settled for this fast casual purveyor of American comfort food called Red Buffalo Wings & Pizza. It turned out to be a terrific choice as we were treated to some of the best Buffalo wings that we've enjoyed to date here in Manila.
The obstinate fool that I am, being wrong more often than not leaves a rancid, rather bitter taste in my mouth. Not so today. 😉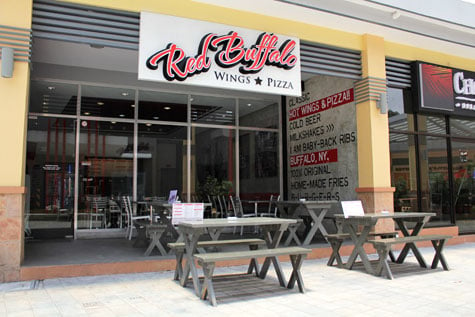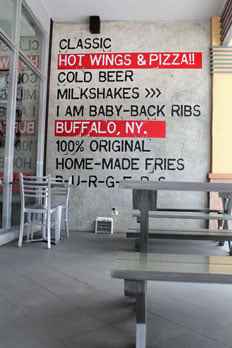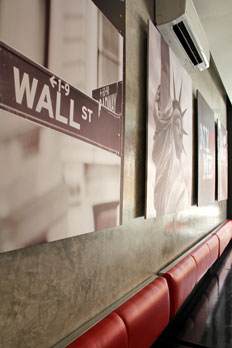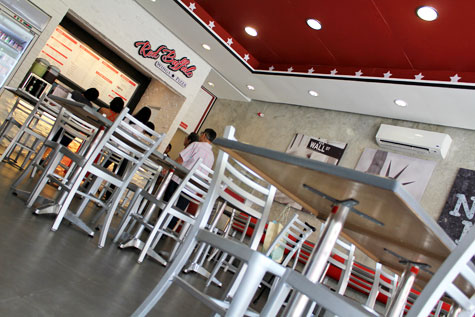 We got a Party size mix of the three wing flavors below. The party size includes 40 pieces of wings at PHP 1,190.
Original Buffalo – Comes in Hot, X-hot, or Suicidal.
I got a sampling of the Suicidal sauce and it was indeed devilishly, deliciously hot. With my wife's family however, not being as keen on heartburn as I am, I had to be content with the Hot, at least for today. 😈
Tangy with just a hint of heat, these, together with the other two flavors below, are among the best wings that I've tried here in Manila. Though not quite as crisp as my brother-in-law's wings (a former Buffalo resident), they tasted every bit as authentic. My uneducated guess is that they probably use the same line of Frank's RedHot sauces, a key ingredient to the authentic Buffalo wing. Awesomely delicious.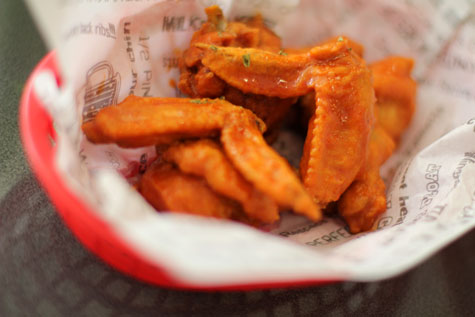 Honey Bourbon
Bold and sweet for those not fond of heat. I prefer spicy hot wings but I enjoyed these every bit as much as the Buffalo Original.



Parmesan Garlic
An unsauced version with a crumbly, grated Parmesan cheese texture, these were deliciously garlicky, herby and flavorful. Alternating between flavors made for a wonderfully varied and comprehensive Red Buffalo wings experience. Loved it! 😀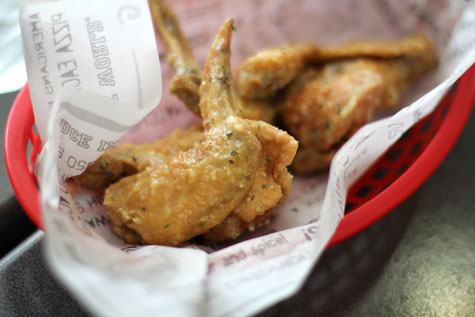 Hickory Baby Back Ribs – PHP 365 – Half-slab baby back ribs on their flavorful hickory-bourbon sauce. Served with coleslaw and home-made fries.
Can you say "slide-off-the-bone-tender?" Fork tender, sweet, and earthy with a similar if not identical hickory bourbon sauce as the wings above, I'm confident that these baby back ribs can hold their own against any others out there. Dee-licious!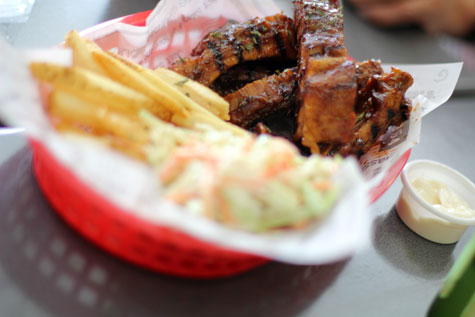 RB's Special Pizza – PHP 395 – Pepperoni, Italian sausage, ham, ground beef, black olives, mushrooms, bell peppers, white onions.
I know I'm already sounding like a Red Buffalo fanboy, but this pizza was frikking awesome too. Flavor-wise, it reminded me a lot of the Shakey's Special pizza, but with a different crust. It was still thin and crisp, just not crackingly so, if that makes any sense. Described by Ren as a more refined version of the Shakey's Special, I'd go back to Red Buffalo just for this.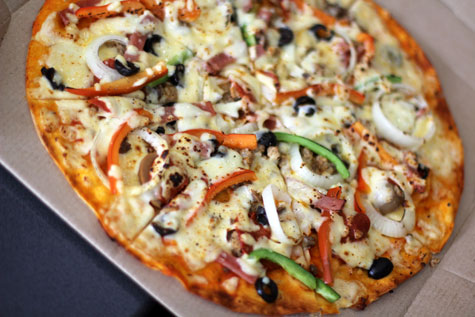 Chicken Alfredo – PHP 195 – Creamy alfredo sauce topped with seasoned chicken fillet and fresh basil.
Creamy and aromatic with generous pieces of chicken. Alfredo sauce isn't really my thing, but you'll probably like this if you're into cream sauces. Ren enjoyed it.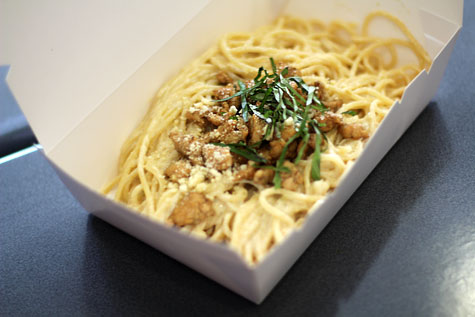 Home-made Fries – PHP 85
Delicious thick-cut fries. 'Nuff said.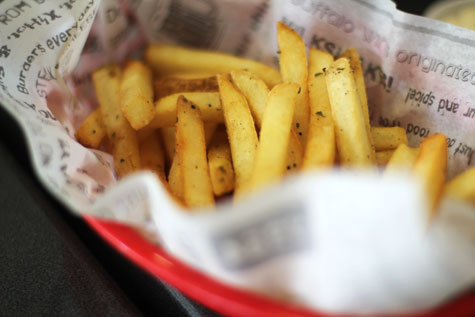 Onion Rings – PHP 120
Light and crisp but still soft, these are exactly the way I like my onion rings. They weren't oily nor heavy on the batter either.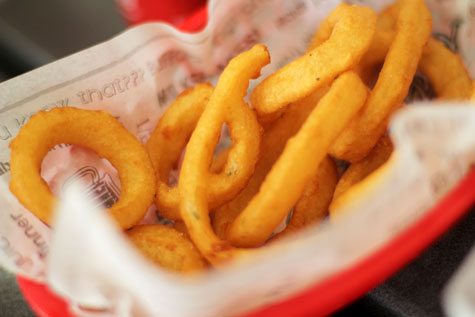 An always welcome sight. A good, moderately priced selection of imported craft beers to go with inexpensive locals. They even have Tanduay Ice. This place rocks!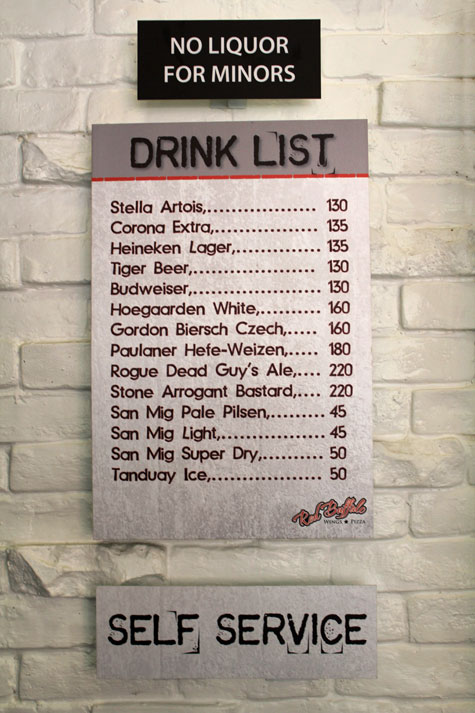 Soon as I walked into this place, I was instantly reminded of similar fast casual restaurants like Charlie's Grind & Grill and Ristras, maybe even Yellow Cab. With its limited self-service format, its highly developed New York-inspired interiors, and a refrigerator boasting an impressive selection of imported craft beers, it appeared in all aspects to be an American franchise. After all, they served some of the best Buffalo wings that we've enjoyed here in Manila, so they had to be right?
Apparently, wrong I was again.
A quick Google search failed to come up with any hits for a Red Buffalo Wings & Pizza restaurant anywhere in the US, so like the three establishments mentioned at the top of this post, we were left to assume that this awesome place was by all means a true Filipino original, which makes it all the more impressive in my book.
Again, being wrong never tasted so damn good. 😉
JB is one half of Will Fly for Food and its chief itinerary maker.  He's the one to blame for all the crappy photos and verbal diarrhea on this blog.  Don't listen to him.
Latest posts by JB Macatulad (see all)