Imitation is the Sincerest Form of Flattery
Imitation is the sincerest form of flattery.
– Charles Caleb Colton
I was doing my daily rounds this morning and checking out my favorite group buying websites when I spotted this interesting looking deal at Zark's Burger on Cash Cash Pinoy.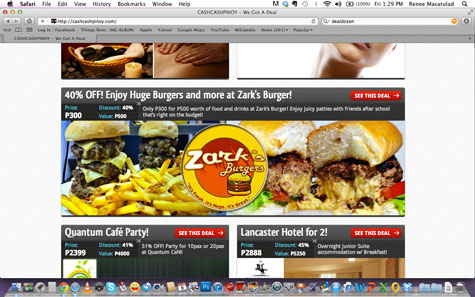 It didn't occur to me at first since I was transfixed on their mammoth-sized burgers, but it suddenly dawned on me that their logo looked eerily familiar. Back in 2005, I designed the logo for Grinders, a gourmet burger restaurant in Kobe, Japan. Here's the Grinders logo I designed next to Zark's:
Coincidence or separated at birth? 😆
I don't want to jump the gun and make accusations, but anyone with half a brain can see that the similarities aren't coincidental, so I'm going to assume that they drew their inspiration from mine.
No worries though. If you're the owner of Zark's or the designer who created their logo, don't sweat it. I'm not anal like that. On the contrary, I'm actually quite flattered that you liked my logo enough to be inspired by it. After all, wasn't it Bob Dylan who said that "the highest purpose of art is to inspire?"
I'm sure the Japanese owner of Grinders wouldn't mind either since he's a chill, laid back dude. Plus you changed it enough to make it your own anyway. 😉

Here's a photo of the actual sign in Kobe. I had it manufactured here then shipped to Japan.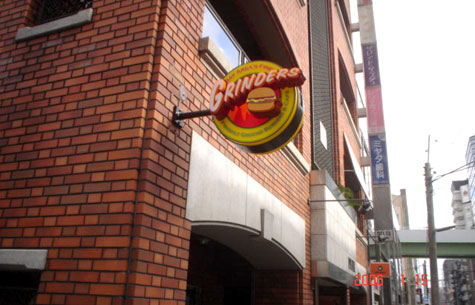 Note the camera date at the bottom. 🙂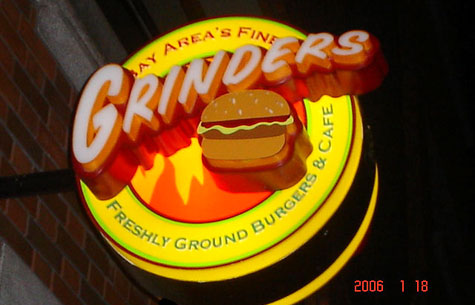 Since I'm on the topic of drawing inspiration from the web (or any other source), I'd be a hypocrite if I claimed to never search the internet for ideas. Anyone who insists that they don't is a liar.
As a designer, it's ok to draw inspiration from others so long as you change it enough and make it your own. Don't just copy. As Pablo Picasso once said: "Bad artists copy. Good artists steal." Dude was a groundbreaking, egocentric genius, so I'm pretty certain he was referring to himself and his ability to take something, reinvent it, and make it his own.
Don't believe me? Google "Cubism" and "Cezanne". 😉
* * * * *
Going back to the burgers, Zark's offerings do look sinfully delicious and I'd snap me up some vouchers if it weren't for the fact that they're located all the way in Manila, along perennially congested Taft Avenue. I have nightmares about parking in that area. People on their Facebook page seem to love their burgers though so Ren and I hope to make it out there sometime and try them for ourselves.
And besides, I haven't flown to Kobe to try a Grinders burger so I guess this would be the next best thing. 😉
JB is one half of Will Fly for Food and its chief itinerary maker.  He's the one to blame for all the crappy photos and verbal diarrhea on this blog.  Don't listen to him.
Latest posts by JB Macatulad (see all)