Chef Laudico's Casa Filipino
Chef Laudico's Casa Filipino is located on Scout Torillo corner Scout Fernandez, Brgy Scared Heart, Quezon City. Tel: 921-1850
Buffet restaurants are nothing new. Many well-known hotels offer them. Chinese buffets are aplenty, as are Japanese all-you-can-eat restaurants like Saisaki, Zensho and Yakimix. Dad's, the founding father of the No Leftovers 50% off rate, has been open since 1993.
But when a trendsetting chef like Rolando Laudico throws his hat in the ring (or buffet table in this case), a once commonplace idea again becomes a fresh and exciting concept. That's exactly how we felt when Chef Laudico's Casa Filipino finally opened its doors last month.
Though we've never eaten at his Bistro Filipino restaurant in Taguig, we've heard many praise Laudico's forward thinking skills as a chef, lauding his inventive twists to Filipino classics like Adobo Shiitake Cappuccino, Pork Sinigang Puree, Angus Beef Kare-Kare, and Deconstructed Sans Rival.
What makes it even more intriguing is the fact that he seems to pull off these modernizations while still keeping intact the integrity of Filipino cuisine. New? Definitely. Foreign? Definitely not.
With Casa Filipino opening so close to where my in-laws live, we were excited to finally experience first-hand this gift for reinvention that we had heard so much about.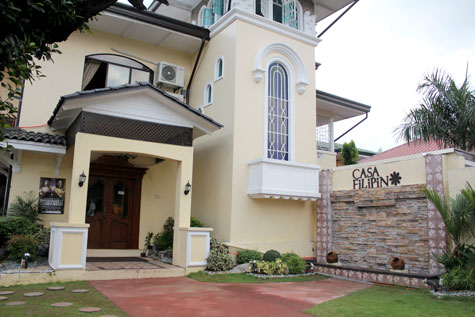 Buffet pricing. That Pulutan + Booze Buffet sounds wicked. 😈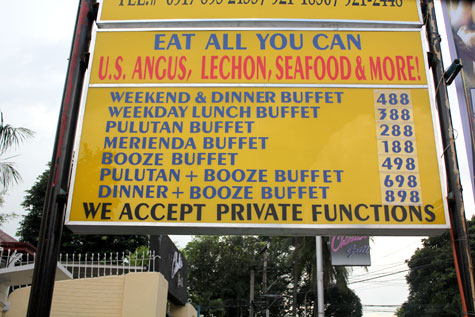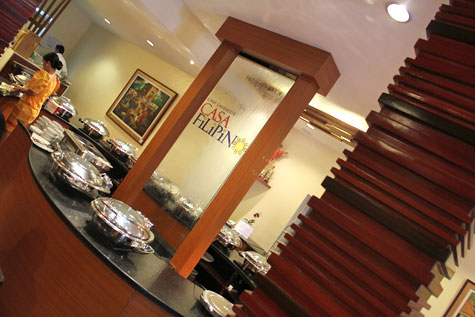 Beautiful textures and lighting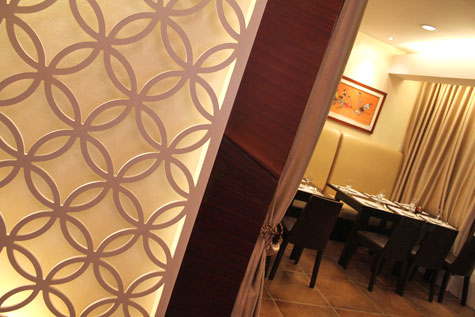 Cold Appetizers
Kilawin Spoons. I was too anxious to try everything so I couldn't be bothered to put any soy sauce and wasabi on mine. Be sure to add some to yours since failing to do so will result in a bland spoon of sashimi. 🙁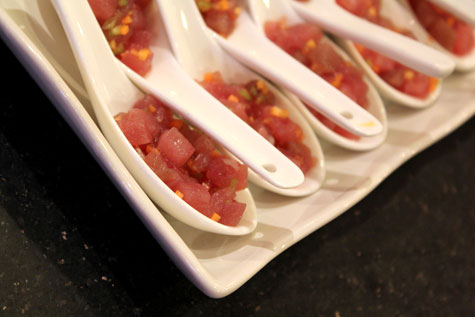 Shrimp Maki in the foreground, Adobo Maki in the rear. I only tried the adobo maki, but I honestly can't remember how it was. Sorry, that's the thing with these buffets. There's just so much to try that it's difficult to keep track of everything.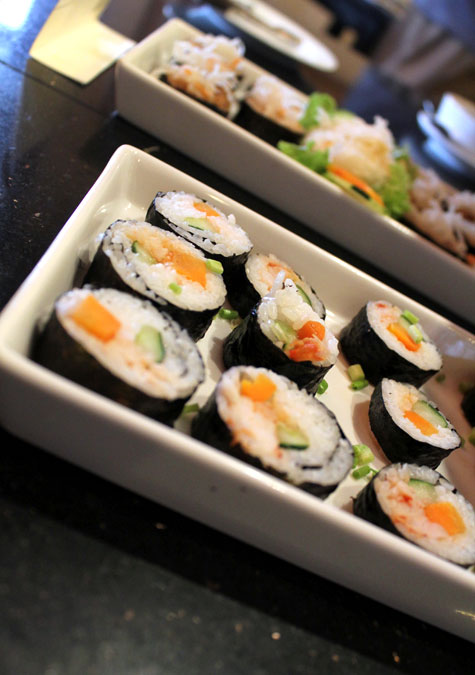 Hot Appetizers
L-R: Fried Dumplings, Kamote Croquettes, Lumpiang Ubod Cones. I thought the appetizers were their most inventive and best-tasting dishes. I didn't try the kamote croquettes but I enjoyed the fried dumplings and lumpiang ubod.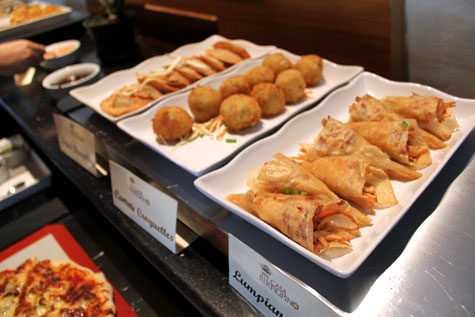 L-R: Yakitori, Vegetable Lumpia Cones, Seafood Okoy. Of these, I only tried that funky takraw-looking interpretation of seafood okoy. Cool huh? If I remember correctly, it had chunks of shrimp and squid rings inside. Beautiful and super creative appetizer.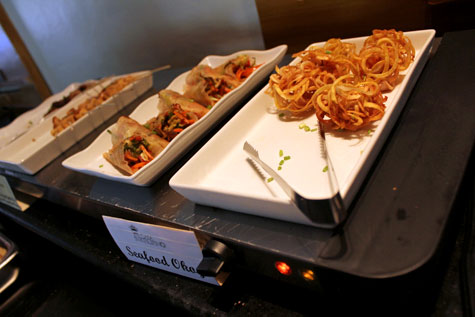 Pork and Chicken Sisig Cups. Like any beer-drinking Pinoy, I enjoy sisig even in it's most novel forms.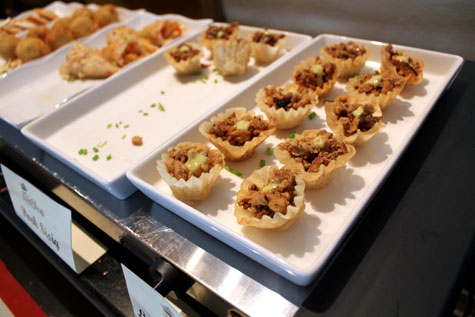 Main Courses
Tilapia with Taba ng Talangka. I think the taba ng talangka was in the rich accompanying sauce.
I first ate this with their moist garlic annatto rice and enjoyed it. Ren, however, complained that it was dry, so I tried it on its own and indeed found it to be unpalatably dry and chalky when eaten by itself. Probably a result of overcooking.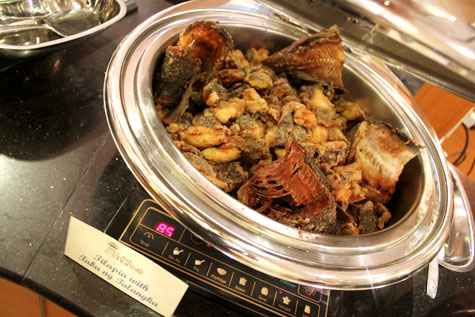 Fried Chicken in Adobo Pepper Sauce. I picked out a drumstick and found the meat to be really tough, as did everyone else at our table. It tasted ok, though nothing particularly special. Plus I couldn't get past how tough it was, probably a result again of overcooking.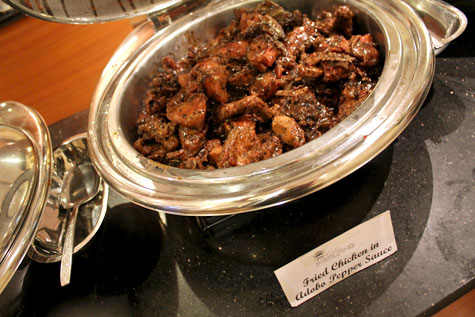 Lechon Paksiw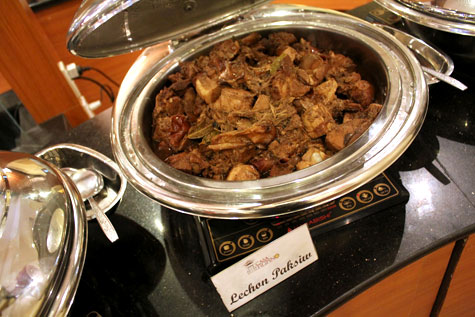 Inihaw na Bangus. This was ok, pretty much just what you'd expect.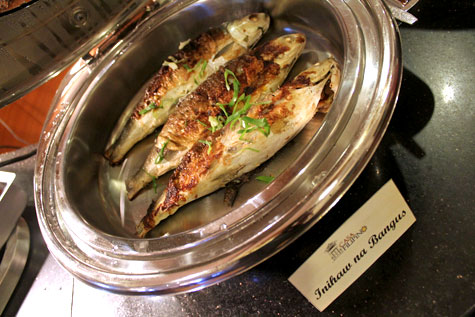 Angus Kare-Kare. I'm not a kare-kare eater so I left this for everyone else. They were all in agreement that it tasted good, but the meat was surprisingly, and disappointingly tough. The culprit? Undercooking most likely.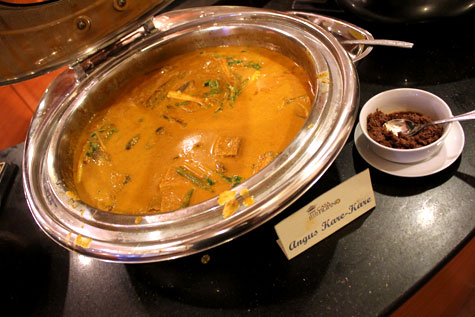 Grilled Vegetables with Pesto and Cheese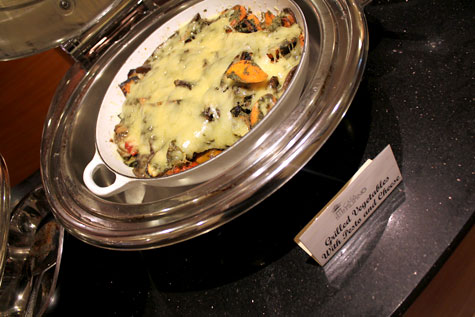 Tuyonesca Pasta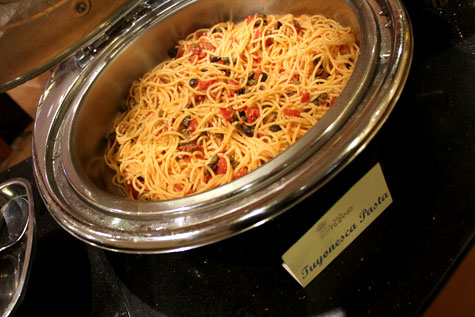 This one didn't have a label, but it looked to be some sort of Pinakbet dish.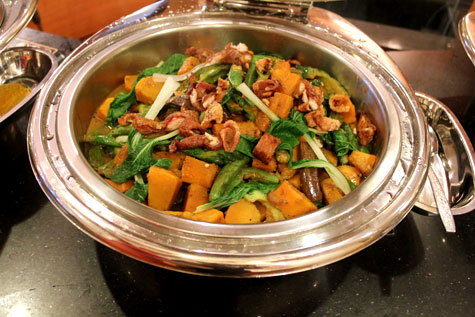 Carving Station
L-R: Lemongrass Roast Chicken, Balamban Liempo. The Balamban liempo was moist, tender, and very tasty. Many people complain that Balamban liempo is too flavorful, but I'm not one of them. 😀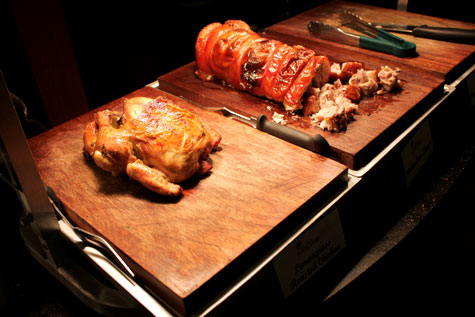 Roast Beef. Tender and flavorful in parts, dry and chalky in others. What gives?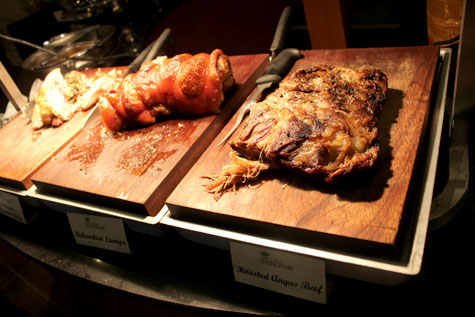 Desserts
Suman Panacotta (top). I like the texture of suman so I really enjoyed this dessert.
I'm not sure what the ones in the middle were, but they tasted like some sort of suman dessert as well. The balls at the bottom were fried dough for the Tablea chocolate fountain.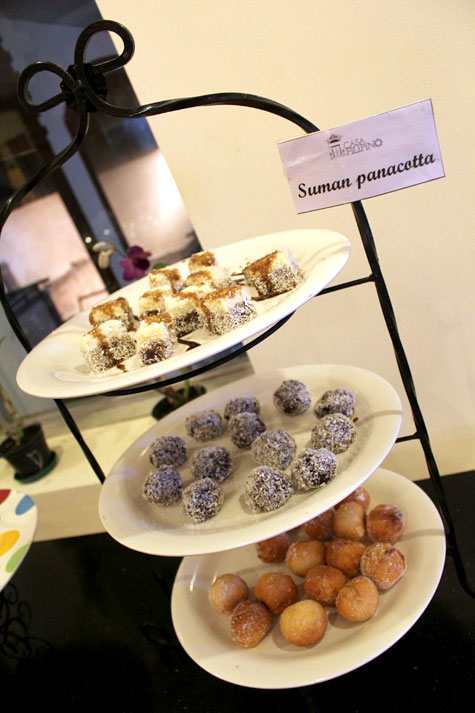 Banana Cake with Peanut Butter Mousse (top) and Tablea chocolate fountain (right). I don't know what the other cakes were.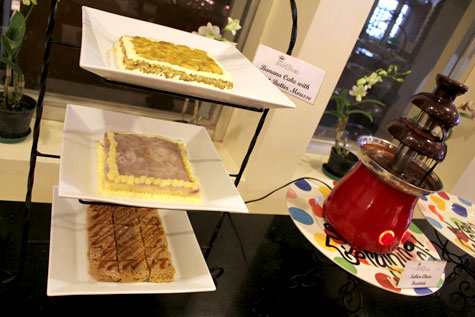 My Bounty
Hot and cold appetizers. As mentioned above, the appetizers were my runaway favorites, though in hindsight, it's possible that I was wowed more by the concept than the actual products.
In any case, they were the most inventive and best executed dishes, with the seafood okoy, pork sisig cups and lumpiang ubod being my favorites.



Main course proteins with garlic annatto fried rice. To be honest with you, I was disappointed with the main course offerings, finding many of them to be overcooked, dry and tough.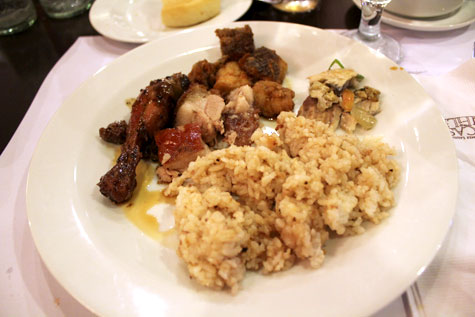 Desserts. Ren and I shared this plate of desserts. I enjoyed the suman-based desserts whereas Ren didn't like any.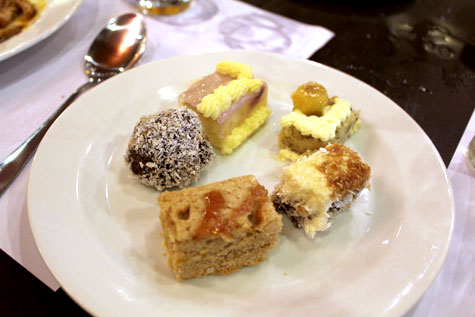 Served only upon request in cute little shot glasses, the one on the left was Frozen Brazo de Mercedes and the other with the smudge of ube on the rim was Halo-Halo.
I had high hopes for these but I was sadly disappointed. The brazo de mercedes was way too sweet, and the halo-halo bitingly cold. Aaaarrgh! Such cute presentation too! 😡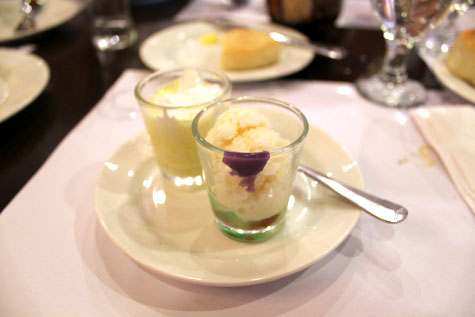 This experience reminded me of a funny story I heard long ago:
Friend one: "Hey, did you hear about that guy who invented this amazingly strong super glue? One drop and the Sphinx's nose is as good as new."
Friend two: "Wow! He must have made a fortune!"
Friend one: "Not exactly. He couldn't pry the cap off the tube."
Ba-da-bum tsssch!! A terrific concept gone awry because of less than stellar execution.
So where exactlty did things go wrong? As mentioned above, we were all in agreement that the food itself tasted good. Novel and exciting, it delivered on the promise of providing unique twists to familiar dishes in signature Laudico fashion. Where it fell apart was the fact that many of the proteins, most notably the Angus beef in the kare-kare, were unpalatably tough.
Was this a fluke? Were we just unlucky that day? Apparently not, since my mother-in-law went back a second time with her friends for lunch, and they all grumbled about the same thing. She brought this up with the manager, telling him what a shame it was for the proteins to be so tough when the food itself tasted quite good.
Only a few weeks removed from their opening, I'd say that the likeliest reason for the poorly executed proteins was a lack of experience. I imagine that it isn't easy to pull off a buffet like this on a daily basis without experiencing a few difficulties at first. I've watched enough restaurant cooking shows to know how easy it is to miss the mark on a few plates of food under pressure, let alone an entire bountiful spread such as this.
With some experience, I hope that they can iron out these kinks and deliver a product that is every bit as good in reality as it is in theory, because I, for one, would like to see this one stick.
Ba-da-bum tsssch!! 🙂
JB is one half of Will Fly for Food and its chief itinerary maker.  He's the one to blame for all the crappy photos and verbal diarrhea on this blog.  Don't listen to him.
Latest posts by JB Macatulad (see all)