Nomama Artisanal Ramen is located at G/F, FSS Bldg., Sct. Tuazon cor. Sct. Castor, Quezon City. Tel: 542-2558.
Here I go again.
After writing this post on the importance of going into a new restaurant without too many expectations, I of course, being the obstinate Taurus male that I am, do the exact opposite.
How could I not contain my excitement though? You don't come across many Japanese restaurants that veer too far from the standard fare, so I naturally became intrigued when hearing about Nomama Artisanal Ramen that opened just a few weeks ago.
Owned and helmed by Chef Him Uy de Baron, the restaurant features ramen dishes proudly made from scratch, hence the word "Artisanal" in its name. Also, I read that Chef Him, like Chef Sau del Rosario, is an advocate of the Slow Food Movement, using only the freshest local and organic produce whenever possible.
If that isn't enough to get a tree-hugging Japanese food-loving hippie like myself excited about a new restaurant, then I don't know what will.

Love the sign.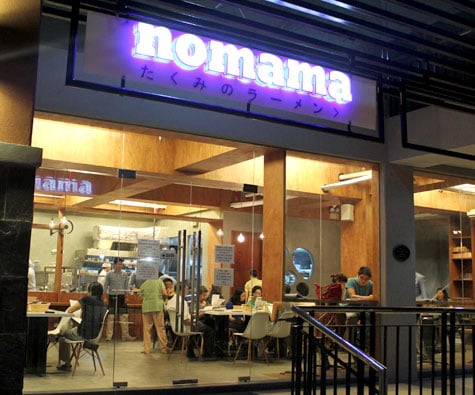 Beautiful industrial, loft-style interior with plenty of unfinished wood, concrete and exposed pipes. Though minimalist, much thought and attention to detail went into the space. The interior (as did the menu) looked to have been inspired in parts by Chef David Chang's 2-Michelin Star Momofuku in Manhattan.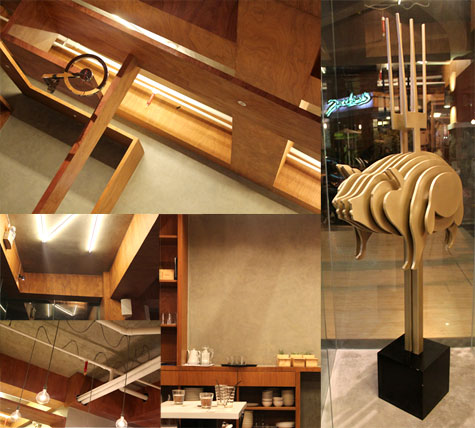 Loved these wooden tabletop slide boxes that housed all your utensils.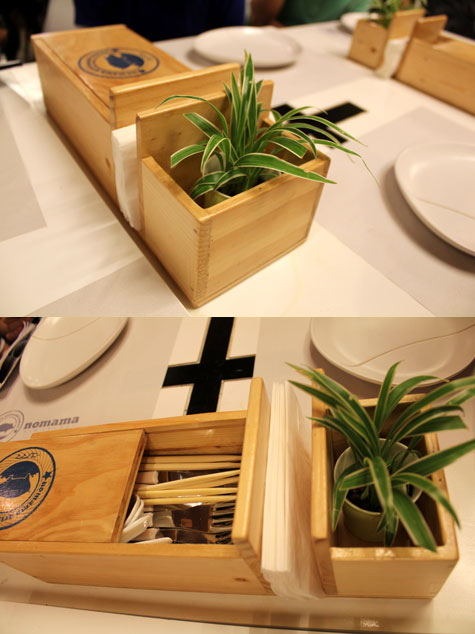 As JJ Yulo aptly put it, the open kitchen is a stage upon which the crew can "do their dance."
I first became a fan of the open kitchen concept after eating at Chef's Table by Chef Bruce Lim. The open kitchen at Nomama appeared to be half and half – with the real cooking done in a traditional, closed kitchen while the plating, jeujing, and desserts were done in the open section. You'll see what I mean in a succeeding photo.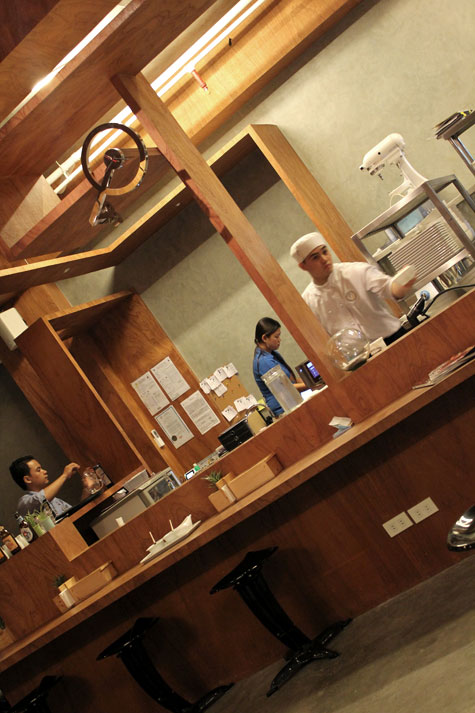 Beautifully designed menu.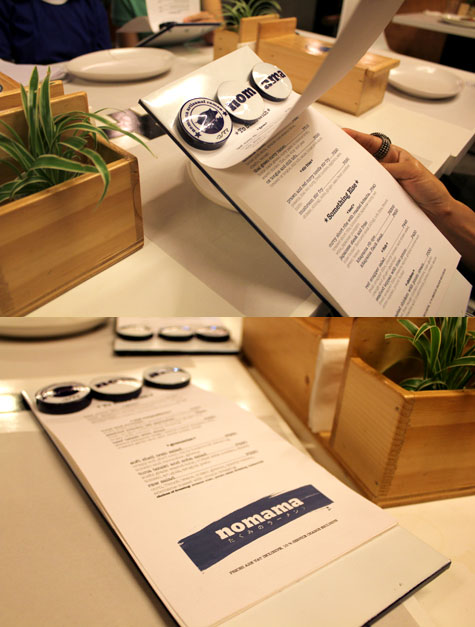 Nomama's half closed, half open kitchen. That's Chef Him adding the finishing touches to a few dishes.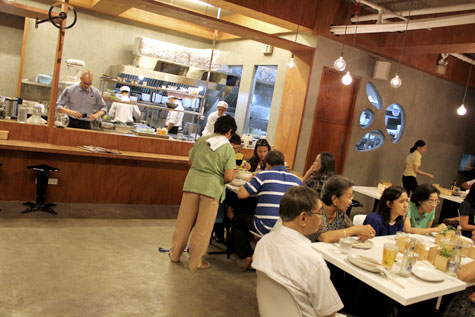 Mushroom Gyoza – PHP 125 – Shiitake, oyster, button and shimeji mushrooms.
When our waiter served this to us, he said that the sauce was already in the gyozas. Taking a bite, you hardly notice any, and I was disappointed by its lack of flavor at first. However, this allowed the naturally earthy, woodsy flavors of the mushrooms to really shine through. I became a fan at the end, though I still would have liked some sauce on the side just to vary things up a bit. Overall though, I really enjoyed this.
It's worth noting that both Ren and my mother-in-law found the dumpling wrapper to be a bit thick, wishing it to be thinnner and more delicate.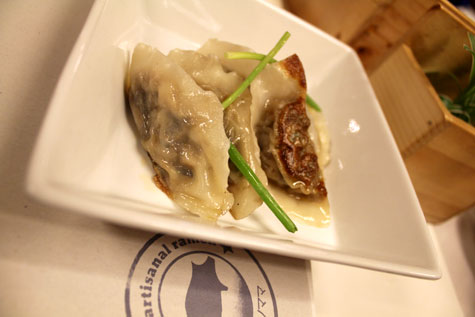 Prawn and Red Curry Noodle Stir Fry – PHP 290 – Prawns, Thai red curry, fresh noodles, eggplant, sake, mirin.
Ren was really disappointed with this one, as was I. I absolutely love curry, but this one tasted unrefined, as if it were made with a pinch too much sugar and not enough spices. It tasted too sweet for my liking and lacked the depth of flavor that I look for in a good, well-balanced curry.
Ren went so far as saying that it tasted like one of those Lucky Me instant noodle packets you can buy from the grocery store. Ouch. Definitely not worth its PHP 290 price tag.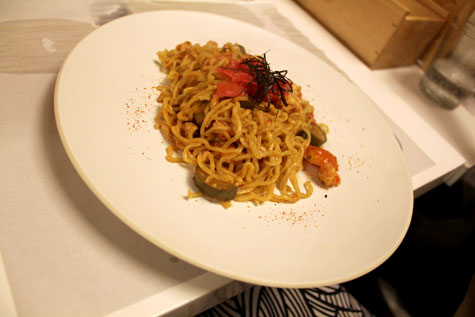 Nomama Seafood Tempura – PHP 360 – Premium soft shell crab, snapper and prawns with kobacha and eggplant.
I was really looking forward to enjoying an all-seafood tempura that featured soft shell crab, but I have to say that I was disappointed with this one from the very first bite.
I like my tempura batter to be light and delicate, which unfortunately this wasn't. It was heavy-handed and clumsily battered, resulting in a coating that was tough to bite through, so much so that my mother-in-law had difficulty eating it. She had to soak each piece in the tempura dipping sauce for a few minutes just to get it soft enough to eat.
On the plus side, the soft shell crab was tasty and I found the tempura dipping sauce to be more flavorful than usual. That however, is hardly enough to entice me to order this again, as I find it difficult to get past all that heavy-handed batter. Kimpura-quality tempura this definitely wasn't.



Kit Kat Bar – PHP 175 – Homemade peanut butter and chocolate bar with raspberry paint.
This was really good. From the moment I saw it on the menu, I knew I had to try it, and I'm not even a dessert person. It was like eating a cold, rich, fudgy Reese's peanut butter bar. I'm actually surprised that I liked this so much considering that I'm not a big peanut butter fan.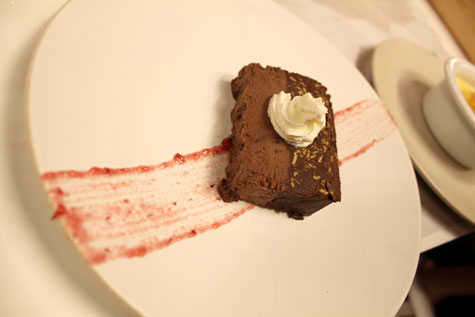 Dessert of the Day – Pineapple panna cotta.
Talk about pineapple overkill. As you can tell from the picture, this just had way too much pineapple on top. The panna cotta itself wasn't bad, so I would have preferred it without any of those overly watery pineapple chunks.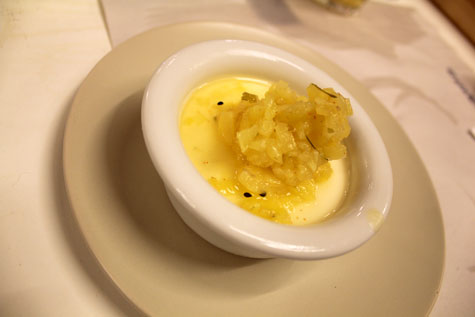 As you can probably tell, I'm not beaming about this experience. What happened? Did I just go in with too many expectations, invariably setting myself up for disappointment yet again?
Or could it be that with just one month under their belts, they still had a few kinks to iron out? Before we left, our waiter told us that they'll be introducing 10 new items to the menu next week. Is that indicative of a restaurant still in flux, searching for its identity with its roots not yet firmly planted?
Or maybe we just ordered the wrong things. They did advertise themselves as an "Artisanal Ramen" restaurant, so perhaps we should have ordered the ramen? Ren's nephew ordered the ox tongue ramen and loved it, proclaiming that he would definitely order it again.
In hindsight as I write this post, I'd say all of the above.
Yes, they do specialize in ramen so either Ren or myself should have ordered a ramen dish.
Yes, they are new and anyone familiar with the restaurant business (or at least watches a lot of restaurant shows) knows just how difficult the day-to-day operations of running a restaurant are, especially if you're just a few weeks removed from your opening. Some of the things we found issue with, like the overly thick dumpling wrapper and tempura batter, can be attributed to execution. Hopefully these can be resolved with some experience.
And yes, I did go in with overly lofty expectations of a restaurant that's barely a month old. Unrealistic? Perhaps. But as I explained at the top of this post, a modern Japanese restaurant committed to serving new and exciting non-traditional fare are few and far between here in Manila, which is why I'm willing to look for the silver lining and give them the benefit of the doubt.
The prospect of a funky new Japanese restaurant serving creative comfort food is just too good a concept to dismiss. For now.
JB is one half of Will Fly for Food and its chief itinerary maker.  He's the one to blame for all the crappy photos and verbal diarrhea on this blog.  Don't listen to him.
Latest posts by JB Macatulad (see all)