Panciteria Lido is located at G/F The Capital Towers, E. Rodriguez Sr. Ave., New Manila, Quezon City. Other branches:
BF Homes – 23 Presidents Ave., Johver Bldg., B.F. Homes, Parañaque.
Tel: 403-9062
Shaw Blvd – Shaw Blvd. Brgy. Wack-Wack, Mandaluyong. Tel: 998-1322
Visayas Ave. – 16 Visayas Ave., Brgy. Vasra, Quezon City. Tel: 441-5436
West Ave. – Westlife Bldg., West Ave. cor. Bulacan St., Quezon City. Tel: 374-7494
Ren's cousin Brooke had a voucher to Sunrise Buckets and invited us out to dinner last night (Free food! Woohoo!). She was supposed to pick us up at around 5:30 pm but later called to say that she'd be a couple hours late. Ren and I have dinner no later than 6 pm every day (and are in bed by 6:30 😛 ) so couldn't possibly wait that long.
With our tummies making those Predator growling noises, we walked over to Panciteria Lido next door with her cousin Sep and got a quick bite just to tide us over until Brooke arrived.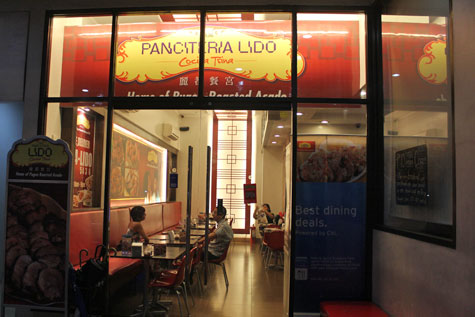 Lido Rice – PHP 175 – Shrimp, chicken, squid, chorizo, Lido's own roasted asado and vegetables cooked in brown sauce. Served with steamed rice and egg.
I thought this was going to be some type of fried rice dish so I was a little disappointed by it. It was basically a chop suey dish served with steamed rice and a fried egg.
Though it filled me up, it was pretty bland and boring overall and definitely not something I'd order again.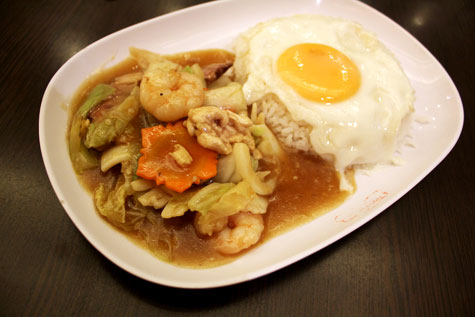 Chami Special Pancit Guisado – PHP 120 (solo)
Being the noodle lover that she is, it came as no surprise that Ren ordered this one. It was very tasty and similar to lomi minus the soup.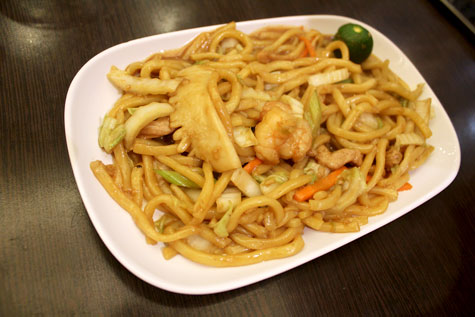 Drunken Lechon Macau Rice – PHP 165 – 60-hour cured pork belly, immersed in premium wine and spices. Served with vegetables in brown sauce and steamed rice.
Sep ordered this one. I tried this on our previous visit many months ago and remember it to be quite good. It was crisp with a nice thick layer of fat for added flavor.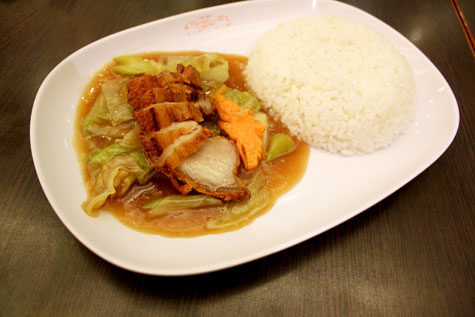 A moderately priced Chinese restaurant that first opened its doors in Binondo, Manila in 1936, Panciteria Lido is best known for its pugon roasted asado. We didn't order it this time but you should definitely try it. I suggest ordering the shrimp balls as well. I remember those to be particularly delicious, and I wish that I had ordered them again tonight.
With our appetites temporarily sated, we were now off to Sunrise Buckets to get us some of them buffalo wings and buckets of San Mig Lights to kick off the weekend…
JB is one half of Will Fly for Food and its chief itinerary maker.  He's the one to blame for all the crappy photos and verbal diarrhea on this blog.  Don't listen to him.
Latest posts by JB Macatulad (see all)