Papa John's Bacon Cheeseburger Pizza
Papa John's is located along Tomas Morato corner Scout Rallos, Barangay Laging Handa, Quezon City. Tel: 921-PAPA (7272) / 921-7590 / 921-7591. CLICK HERE for other branches.
Along with Domino's and Numero Uno, Papa John's was one of Ren's favorite delivery pizza chains in the US. I was strictly a Domino's disciple back then so never got to try Papa John's. "You never tried Papa John's?!" Ren said in disbelief. Jeeez…sooorry!! 😀
So when a Papa John's finally opened up along Tomas Morato, we decided to order in so I could see for myself what I had been missing all those years.

Hmmmm…I pictured Papa John to be older and a bit more rotund, kinda like Chef Boyardee or Chef Prudhomme.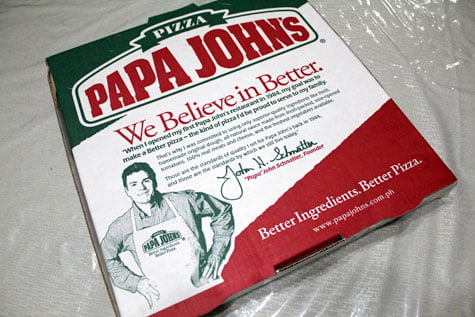 Large (14″) Bacon Cheeseburger Pizza – PHP 530 (ours came out to PHP 578 wth delivery charge) – Ground beef chunks topped with crunchy bacon bits, fresh tomatoes, onions and cheddar cheese.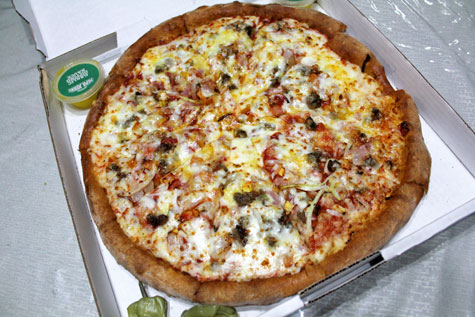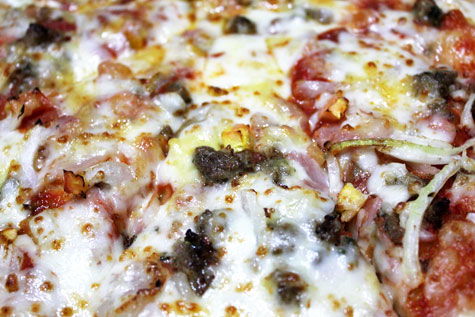 Came with 2 pickled jalapeño peppers. Not too hot but added a nice bit of acidity.



Papa John's signature garlic dipping sauce. It was basically a garlic butter sauce similar to the lemon butter sauce you'd get with lobster but minus the lemon. I didn't care for this too much.

The Papa John's mantra as stated on their pizza box is "Better Ingredients. Better Pizza." I can see that. From the first bite, you can tell that they do use fresh ingredients. The crust was great, crisp on the outside and light and fluffy on the inside. I especially enjoyed the tomato sauce which had a nice, tangy, tomato-fresh taste to it.
As a whole though, I wasn't particularly blown away by their pizza. At least not by this flavor. When we ordered the Bacon Cheeseburger, I was expecting to get a pizza chock-full of crushed hamburger and bacon bits. Instead, I could barely taste any hamburger, and bacon none at all, simply because there wasn't enough of either on there. I'm used to getting copious amounts of hamburger and bacon on my pizzas in the US, so I was fairly disappointed with this one.
As for the garlic dipping sauce which they're known for, it didn't go well with the pizza in my opinion. It was way too buttery! It reminded me of the lemon butter sauce served with lobster, but minus the lemon. Since I liked their tomato sauce so much, I would have preferred an extra helping of that as a dipping sauce for the crust instead of this one.
This wasn't a bad pizza but I wouldn't call it great either. As with most US franchises that set up shop here, I'm sure there's a big drop-off in quality because of the difference in ingredients. Most everything in the US just tastes better simply because they have superior ingredients.
For example, I loved Domino's in the US, ordering it at least once a week during my college days. But the Domino's here sucked in comparison. Big time. I ordered it once and never again. Same goes for this Papa John's pizza. As Ren confirmed with much disappointment, this one paled in comparison to the ones you can get in the US.
Overall, this was a decent pizza but I wouldn't order it again. In fact, I think it'll be a while before we try any of their other flavors. PHP 578 net for a 14″ pie isn't exactly a bargain. As far as locally available commercial pizzas go, Brooklyn Pizza is still king for me.
Update – 9/12/2011
As described in this post, we had lunch at the actual Papa John's Pizza branch along Tomas Morato in Quezon City and noticed a world of difference between a pizza delivered and one that's fresh from the oven and eaten there on the spot. It is infinitely better. I'm certain that this flavor would have been much better had we eaten it at the branch itself.
JB is one half of Will Fly for Food and its chief itinerary maker.  He's the one to blame for all the crappy photos and verbal diarrhea on this blog.  Don't listen to him.
Latest posts by JB Macatulad (see all)