United Steaks and Ribs is located along E. Rodriguez Sr. Ave in Quezon City, directly in front of St. Luke's hospital. The original branch is on Maria Clara St. cor. Banawe St., Quezon City.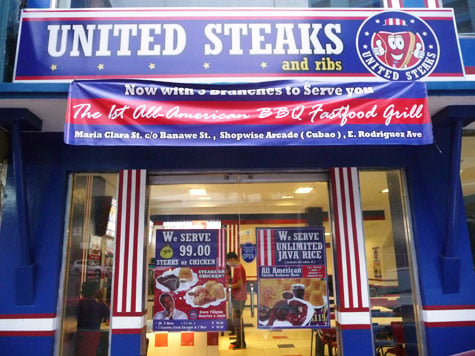 They offer a ton of "value meal" type deals. Here are a few of the more popular ones.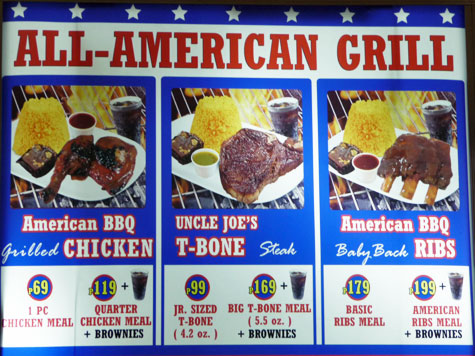 Ren and Sep in patriotic red, white and blue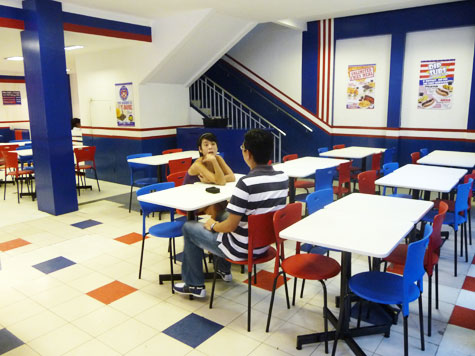 For PHP 499, we shared the Ribs and Steak All-American Family Feast, which came with a half slab of baby back ribs, 2 pcs junior t-bone steak, 2 cups of rice, 2 drinks and 2 brownies. Here are the t-bone steaks.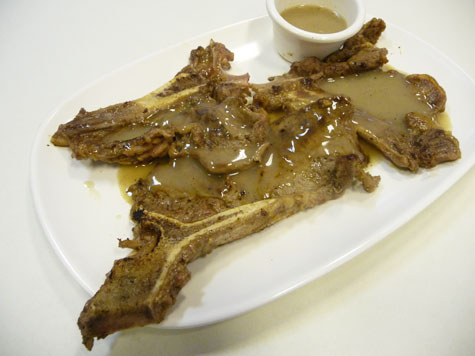 The baby back ribs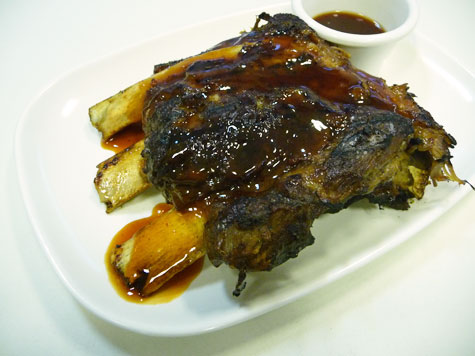 The rice and brownie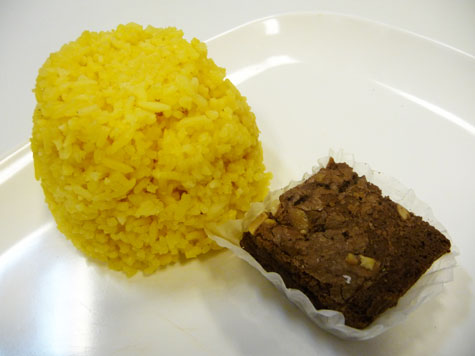 A side order of french fries to go with our All-American feast – PHP 49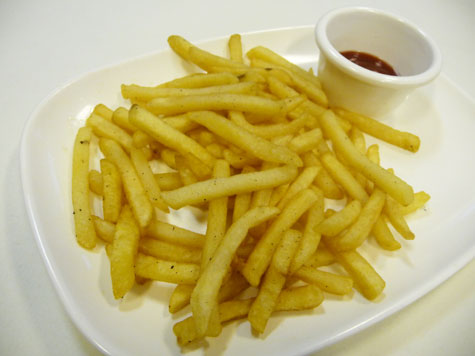 We live close by to this place so have been waiting for it to open up the past few months now. Ren's been wanting to try one of those cheap Slice n' Dice steaks for the longest time, so we vowed to come here soon as they were ready for business. When Sep came over for a Friday night drinking session, we decided to finally try it out before heading out to the bar.
As you can see above, we ordered the Ribs and Steak All-American Family Feast to share between the 3 of us. Their t-bone steak looked a lot like the thinly cut variety served at Snackaroo, but unfortunately all similarities ended there. Unlike the tender and delicious Snackaroo steaks, theirs was tough, dry and practically flavorless. Basically the only thing it had going for it was its cheap price.
In contrast, the ribs were surprisingly tender and slid off the bone effortlessly. Though it lacked that smoky flavor and was a bit too sweet for my taste (especially when dipped in the sauce), it was good nonetheless, something I wouldn't mind having again considering how inexpensive it is.
If you're on a budget and wanted to fill up on meat, then I guess this is a good place to go, especially for their ribs. They do offer a lot of "value meal" deals. But if you're like me and want infinitely better steaks at roughly the same price, then I'd steer clear of this place and go to Snackaroo instead.
After polishing off our meal, we head over to Packo's Grill for a bucket or 2, or 3, of San Mig Lights. 🙂
JB is one half of Will Fly for Food and its chief itinerary maker.  He's the one to blame for all the crappy photos and verbal diarrhea on this blog.  Don't listen to him.
Latest posts by JB Macatulad (see all)